XiangSheng DA-06 AK4493/4495 DSD Asynchronous Xmos Decoder HiFi Amp With Remote
Product Warranty
All items Guaranteed 100% Brand New In the original edition Box and Come from the original factory.
All items ONE-YEAR WARRANTY !!!
Shipping Time & Invoice Declare
All items ship with DHL/UPS/TNT/EMS, (DHL/UPS/TNT) About 3-7days delivery time, EMS About 7-15days delivery time.
We can Declare the Value of the Order as Customer's Remark!!!
Product Declaration
First, the reasons for choosing this machine:
1. The Xmos-Xu208 chip is used to receive the usb signal and the Spdif signal.
2. provide genuine custom exclusive xmos driver, there is absolutely no free public version of the drive will be a murmur.
3. AK4495 supports DSD128 and PCM384K, AK4493 supports DSD512 and PCM384K.
4. coaxial, BNC support DOP64 and PCM192K, fiber support DOP64 and PCM176.4K.
5. with remote control function, remote control channel switching, volume addition and subtraction, mute control.
6. there are balanced output, unbalanced output, amp output (optional) and so on.
7. Aluminum alloy wire drawing process panel, thin steel plate box, aluminum alloy wire drawing process cover, both beautiful and well shielded.
8. using R cattle power supply, the smallest magnetic leakage, the highest efficiency.
9. digital, analog power supply independent winding, independent rectification and filtering, power supply.
10. The standard operational amplifier is: OPA2134PA two pieces, OPA2604AU one piece.

Second, the use of precautions:
1. Master the correct sequence of power on and off to avoid impact sound. Power-on sequence: source--decoder--pre-stage--amplifier. The shutdown sequence is reversed.
2. Balanced output is connected to a power amplifier or amp with balanced input. Only unbalanced input amplifiers or amps can be connected with the RCA line, but only if the amplifier can pass the 4.5V high level signal without clipping.
3. The output of the machine is combined with the power amplifier. It can't directly push the pure final stage. The pure final stage should add the preamplifier.

Third, the performance characteristics:
◆ This machine has 4 digital signal input switching: BNC, coaxial, optical fiber, USB.
◆ This unit has a balanced output, a set of unbalanced RCA outputs, and a set of headphone outputs (optional).
◆The main magnifying board adopts double panel design and is made fine.
◆The resistor and capacitor of this machine are assembled with high-quality discrete heating components to ensure the sound quality: Siemens polypropylene capacitor, CBB ultra-small polypropylene metallized capacitor, ELNA capacitor, BC capacitor, etc., to ensure pure tone, high resolution, low sound. The sound field is wide and so on.
◆ xu208 uses 3 active crystal oscillators. It can effectively reduce the clock jitter of the USB port.
◆ The functions of this unit are controlled by MCU and memorize the channel status at the last shutdown.
Fourth, the specification parameters:
★ Dimensions: 260mm wide, 167mm deep, 55mm high (excluding knobs, feet, connectors)
★ Frequency response: 20Hz-35KHz
★Signal to noise ratio: 110dB
★Harmonic distortion: normal port output: <0.001%
★Support 16bit, 24bit digital stream
★ Support the following sampling frequencies: 44.1kHz, 48kHz, 88.2kHz, 96kHz, 192KHz, 384K
AK4495 support: DSD64, DSD128
AK4493 support: DSD64, DSD128, DSD256, DSD512
★ Output level: balanced output 9V, unbalanced output 2V
★ Dynamic range: 120dB
★Input impedance: number 75 ohms
★ Line output impedance: 600 ohms
★Input voltage: 110V, 220V/50Hz
★Net weight: about 3Kg



Schematic diagram of the front and rear panels of the DA-06A:
(1) Power switch (POWER): Press the lock to turn on the power, the Power indicator will light, and press again to release the power.
(2) Digital stream information display and remote control receiving window.
(3) Channel status indicator, the corresponding indicator of the strobed channel is lit.
(4) The power indicator light is lit to turn on the power.
(5) Channel status selection button, each time the channel is pressed, the channel is strobed.
(6) The digital input signal is ready for indication.
(7) Volume control knob, clockwise to increase volume, counterclockwise to decrease volume
(8) USB input port, this interface is used by both mobile phone and computer, the mobile phone is connected through OTG cable; Pc is connected to MAC or Windows system uses Usb cable. Support WIN7 and above systems, MAC free drive.
(9) Coaxial coaxial signal input interface.
(10) Optical fiber digital signal input port
(11) Bnc coaxial input interface.
(12) Headphone jack, matching 32 Euro-600 Euro headphones
(13) Right channel balanced output port
(14) The left channel unbalanced output port is engaged with the left channel of the parallel amplifier.
(15) The right channel unbalanced output port is connected to the right channel of the parallel amplifier.
(16) Left channel balanced output port
(17) Power system switch: 110V--230V grid voltage switch
(18) AC power input.

Remote control button function description:
Up : Switch the channel up
Down: Switch channels down
Vol- : Volume reduction
Vol+ : Volume increase
Mute: mute

Silver panel map:



Black panel diagram:



Rear panel diagram:



DA-06-4495 type out of the box: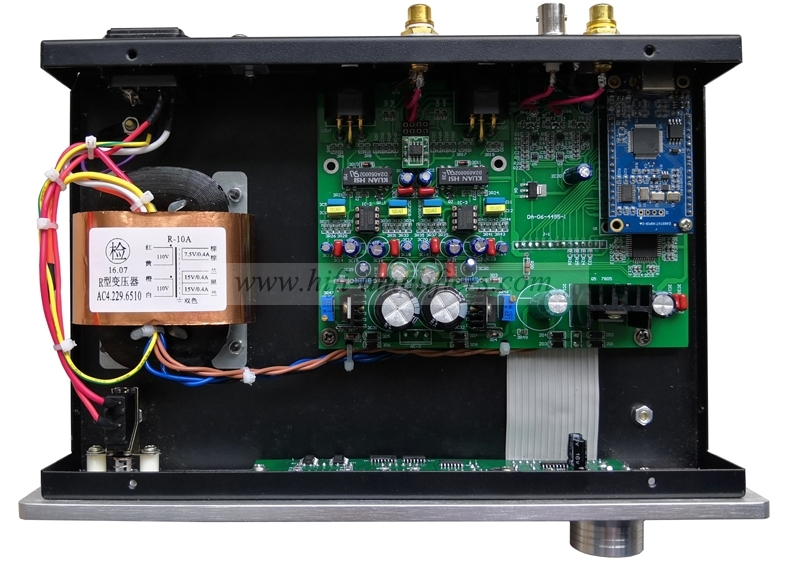 DA-06-4493 type out of the box:
​