XiangSheng 728A III Vacuum Tube Pre-Amplifier Preamp Remote Control & Balance & Bluetooth
Product Warranty
All items Guaranteed 100% Brand New In the original edition Box and Come from the original factory.
All items ONE-YEAR WARRANTY !!!
Shipping Time & Invoice Declare
All items ship with DHL/UPS/TNT/EMS, (DHL/UPS/TNT) About 3-7days delivery time, EMS About 7-15days delivery time.
We can Declare the Value of the Order as Customer's Remark!!!
Product Declaration
Feature:
Now we are launching a remote control model with balanced input and output: all aluminum alloy box, four imported permalloy transformers as the balance port for cattle in and out, using Alps imported motor volume potentiometer, American Dani resistor, Panasonic resistor, military Dahongpao resistor, antique oil immersed capacitor, German Wima, German ero, Siemens Qianceng cake polypropylene capacitor, Teflon signal wire and other feverish materials.
Japanese Alps motor potentiometer is a traditional potentiometer driven by a motor to realize volume adjustment, which has no impact on sound quality, full sealing, long service life and no interference
The default configuration of the electronic tube of this machine is adjusted to:
Shuguang:12at7*2
Psvane: ecc82*2 or Shuguang: 12au7*2
Shuguang : 6z4 * 2 pcs.
This machine is improved many times on the basis of the third generation 728 gall bladder. Compared with the original machine, it has elegant and solemn appearance and extraordinary taste. In addition to retaining all its advantages, the following advantages are added:
1. It is designed with circuit board, and the internal layout is more reasonable, neat and beautiful.
The front panel adopts Silver 6mm thick aluminum alloy electroplating wire drawing process panel, blue power indicator tube, and adds a unique electronic tube display window. The background adopts warm red orange, which is of higher grade (see the figure below).
2. Advanced sand blasting paint process sheet steel box, high gloss metal knob, honeycomb type large machine feet.
3. Four groups of stereo switches are used for signal input, and the traditional rotary switch is used to control the advanced fully sealed relay to realize signal conversion, avoiding switching noise and long service life.
The signal output adopts relay delay. After the amplifier enters the stable working state, the relay pulls in the output signal to avoid the unpleasant noise generated by the electronic tube in the preheating process.
4. The output signal provides two sets of outputs, and you can play with the dual power amplifier system (the instructions indicate that there are high-level high and low-level low. Now the machine has no difference between high and low, and the two sets of outputs are the same. The actual machine prevails.)
5. Gold Plated RCA lotus seats are used for input and output interfaces to reduce contact resistance.
6. The power incoming line adopts a three plug socket, which is convenient for replacing and upgrading the power line.
7. A power grid filter and purification circuit is designed, which can filter out the clutter interference and DC components in the power grid.
8. Antique oil immersed capacitor and polypropylene capacitor coupling such as imported Wima are used.
9. The high-performance r-ox in the transformer is used for power supply, and the price is high (the ring ox and square ox magnetic leakage are large, the radiation noise is large, and the efficiency is low, while the r-ox efficiency is more than 90%, and the magnetic leakage is very small).
10. The high voltage adopts electronic tube rectification, and two are connected in parallel, providing sufficient current.
11. Two large pond filter capacitors and inductors form a CLC filter circuit with good filtering effect, which suppresses the residual noise.
12. The filament of electronic tube adopts AC power supply, which is warmer and more durable than DC power supply, and will not lead to sound hardening, extending the service life of electronic tube. And the interference of filament is reduced to Zui low.
2、 Performance parameters:
Size: 435 × ninety × 290mm
Input impedance: 100k; Output impedance: 600 Ω;
Signal to noise ratio: 90dB;
Frequency response: 20hz--30khz (plus or minus 1dB);
Distortion: 0.01%.
Tube for internal circuit of this machine: 12at7 × 2、12AU7 × 2、6Z4 × two
The net weight is about 5.6kg, and the gross weight of the package is about 9kg.
3、 Product image:
728iii remote control silver front panel:
​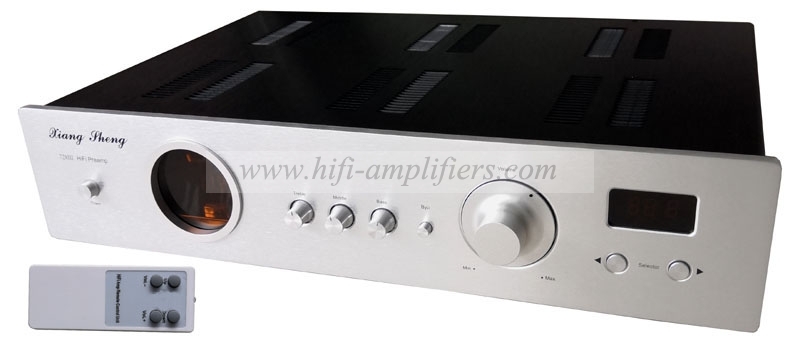 728iii remote control version black panel: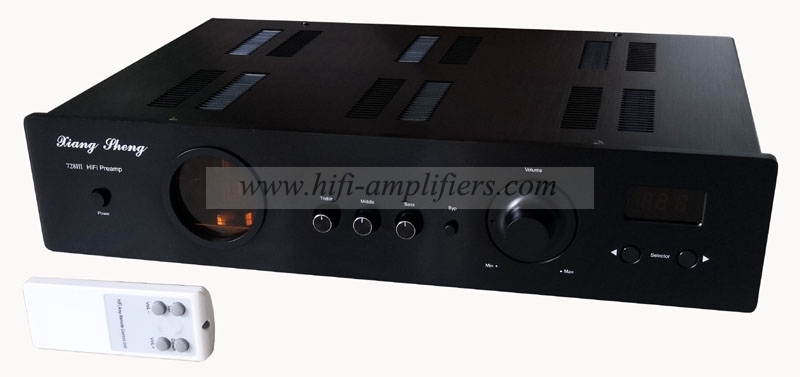 728iii remote control standard rear panel:

728iii remote control balanced mouth cow into cow publishing (all aluminum chassis):

Schematic diagram of the optional Bluetooth rear panel of the 728iii remote control balanced mouth cow into cow publishing (all aluminum chassis):

728iii n-in-n-out balanced version internal drawing (4 imported pomohe Taurus, all aluminum chassis):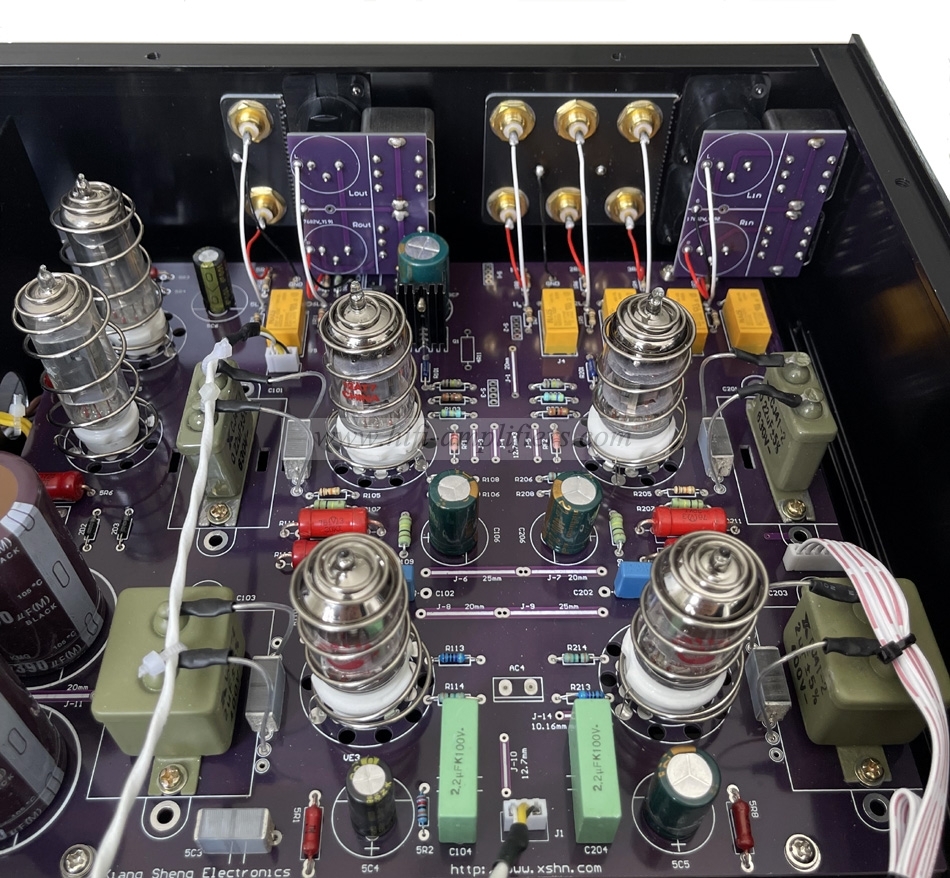 Unpacking diagram of 728iii remote control all aluminum alloy chassis: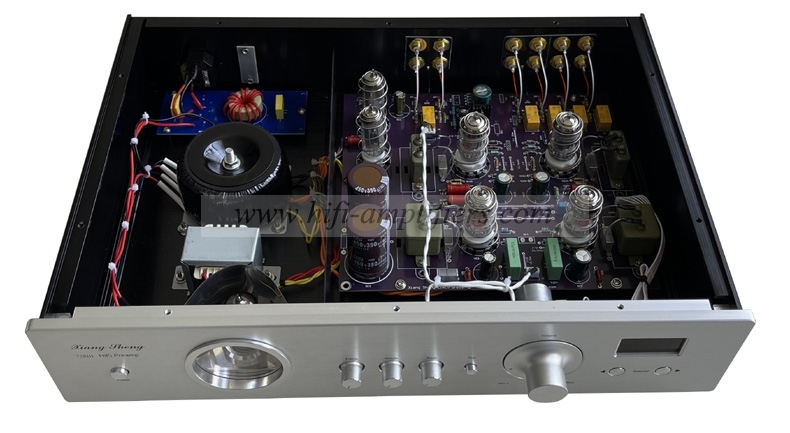 ​