ToneWinner TY-1CD HiFi laser CD Player HDCD DSD lossless music player with remote
Product Warranty
All items Guaranteed 100% Brand New In the original edition Box and Come from the original factory.
All items ONE-YEAR WARRANTY !!!
Shipping Time & Invoice Declare
All items ship with DHL/UPS/TNT/EMS, (DHL/UPS/TNT) About 3-7days delivery time, EMS About 7-15days delivery time.
We can Declare the Value of the Order as Customer's Remark!!!
Product Declaration
Winner TY-1CD HiFi laser CD Player HDCD DSD lossless music player 32bit/384KHz with remote control
100% Brand New

Features:
TY-1CD high fidelity CD laser player overview
1. The appearance characteristics
The shape of the TY-1CD is the same as that of the previous Tianyi HI-FI flagship product. Made of classic black and white all-aluminum alloy, it expresses Tianyi's consistently simple and atmospheric design style; many exquisite curve designs outline the shape full of tension; the angular design reveals a tough atmosphere in elegance.
The body shell is anodized to ensure that the body color stays bright and fresh for a long time. The fine LCD dot matrix screen is integrated with the machine compartment, and the delicate and compact function buttons are connected in a line. Together with a refined aluminum alloy remote control, the performance in both texture and feel is satisfactory. Nothing gives a luxurious and elegant visual impact, and it is full of examples of flagship products.
2. The materials and circuit design
The output interface of TY-1CD adopts 24K gold-plated terminals, which can reduce the fretting corrosion of the metal contact surface, thereby reducing the contact resistance and increasing the current continuity. At the same time, it can effectively enhance the stability and integrity of signal transmission and reduce signal transmission. The resulting attenuation value avoids the instability caused by high attenuation values ​​for high and low frequency signals and minimizes signal loss.
The imaginative decoding "core": using ESS9028, the flagship chip of ESS Company of the United States, this chip is known as "the industry's top digital audio decoding chip", its signal-to-noise ratio is as high as 129dB, the total distortion is lower than -120dB, Supports up to 32bit/384kHz high specification input signal, supports multiple HD audio format decoding, and has amazing performance! In addition, the ESS9028 can directly transmit and play 3.078mhz DOP (DSD, SACD) through coaxial and optical fiber, which is beyond the reach of other decoding chips. ESS9028 chip can guarantee super resolving power, sound sound field is relatively open, real sense of the scene and natural overtones, the sound is exquisite and embossed, the music tastes strong, the texture is very good, and the low frequency expressiveness is very strong.
Military-grade clock system: In order to maximize the performance of the DAC chip, Tianyi specially customized a CS2000, the top-grade high-precision clock system module of Cirrus Logic. This clock system uses a programmable delta-sigma fractional analog PLL (phase-locked loop) frequency synthesizer to stabilize the frequency synthesis/clock generation of the reference clock and generate a lower synchronous clock than the external noise at frequencies as low as 50 Hz. Jittering clock. Digital PLL can be used to generate analog phase-locked loop multiplication factor, ensuring 8~75MHz reference frequency, 6~75MHz output frequency, 50Hz ~ 30MHz input synchronous clock and 1Hz jitter suppression angular frequency. What makes the CS2000 even more unique is that it can provide both a clock generator and a clock clearing function with a single IC. This integration reduces the number of components and board space required for an audio system. Compared to other solutions in the industry today, this family of products can significantly reduce Jitter, making it ideal for professional audio, high-end consumer markets and mainstream consumer audio/video applications.
High-performance operational amplifiers: I/V conversion circuit op amps use TI's top-of-the-range fully differential op amp OPA1632, which reduces even harmonics, reduces common-mode noise interference, and maximizes the high-fidelity performance of balanced transmission signals; The balanced-to-unbalanced op amp uses TI's top-of-the-line bipolar op amp OPA1612, a high-performance, dual-channel, bipolar input audio op amp with distortion as low as 0.000015% and noise density as low as 1.1nV /√Hz!
Selected high-end custom capacitors: ELNA large-capacity high-quality capacitors are used for filter capacitors, and ELNA audio capacitors are used for signal-coupling capacitors, which provide strong guarantee for soft and flexible low frequency, pure thick warm intermediate frequency and fine transparent high frequency.
High-end custom movement: As an indispensable part of the CD player, the designer finally selected this Tianyi custom movement under more than 20 trial and error. The overall structure of the movement is firm and reliable, the accuracy of reading the disc is extremely high, and the metal shockproof base is added, which has excellent shock-proof cushioning effect, and at the same time effectively suppresses the self-existing vibration and the external vibration to reduce the jitter of the optical head reading system and reduce The generation of errors increases the accuracy of reading.
3. The functional characteristics
In order to satisfy the audio player's more advanced gameplay of the CD player, the output part of the TY-1CD provides two parts: analog output and digital output.
The analog output section includes two sets of unbalanced outputs and a set of true fully balanced stereo analog audio outputs, all of which have an analog output filter line optimized for group delay. Advanced audio players know that a true fully balanced output sound is more transparent than an unbalanced output, and the sound field is wider. In the amplification process, the balanced transmission uses the phase cancellation principle to minimize other interferences in the audio signal transmission process.
The digital output section includes a set of coaxial, fiber optic, and AES/EBU digital audio signal outputs. The AES/EBU output port is not common. Only a few Hi-End series CD players are equipped. Through this interface, various digital audio devices can exchange digital audio data, timing information, control information, etc., and the transmission mode. Strong anti-interference ability, providing better performance for back-end power amplifier equipment.
4. the sound characteristics
With the Tianyi's flagship Hi-End front and rear AD-1PRE/AD-1PA, its wide and large sound field, clear and accurate positioning, and three-dimensional distinction are like flowing and magnificent music pictures. Its three-frequency balance, high-frequency clean and delicate, sweet and charming, long sounds, like a spring breeze; medium frequency thick, texture, dense, rich and daring, strong analytical power, rich and beautiful music details; low frequency and powerful, send and receive freely The dive is deep.
All in all, the TY-1CD sounds both soft and soft, both with a super-clear clarification and a strong bile. The sound is sweet and fascinating, and people have a "tank fish can make a hundred heads. According to "the beauty of the joy of pleasure."

Specifications:
Signal to noise ratio: ≥110 (A weighting)
Total harmonic distortion plus noise: ≤0.002% (1KHz)
Frequency range: 20Hz~20KHz (+0/-1dB)
Reference output level: 2V ± 1dB (1KHz)
Support music formats: CD, HDCD, SACD (CD layer), MP3, WMA
Channel imbalance: ≤1dB crosstalk (fundamental): ≥105dB (1KHz)
Product material: aluminum alloy
Appearance color: silver
Net weight: 10.17kg
Gross weight: 13kg
Dimensions: 444mm × 114mm × 393mm (width × height × depth)
Recommended with: AD-1PRE+AD-1PA
Random accessories: remote control, battery pair, warranty card, manual
Applicable occasions: living room, study, bedroom, desktop audio, office and other small environments, high-quality listening environment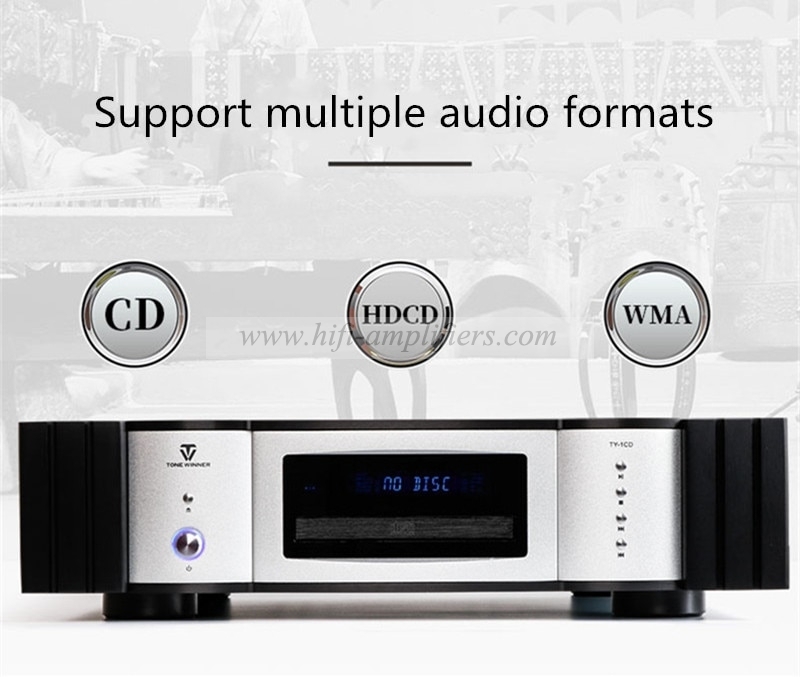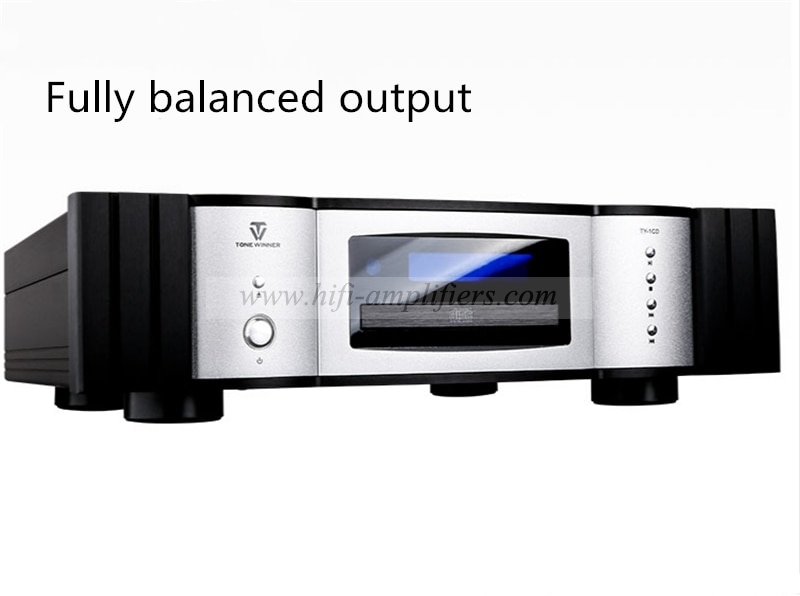 The output part of the TY-1CD provides 2 sets of unbalanced outputs and 1 set of true fully balanced stereo analog audio output; these 3 sets of analog output terminals have analog output filter circuits optimized for group delay, so that the phase distortion is lower.
Lossless digital signal output
Equipped with 1 set of coaxial, optical and AES/EBU digital audio signal output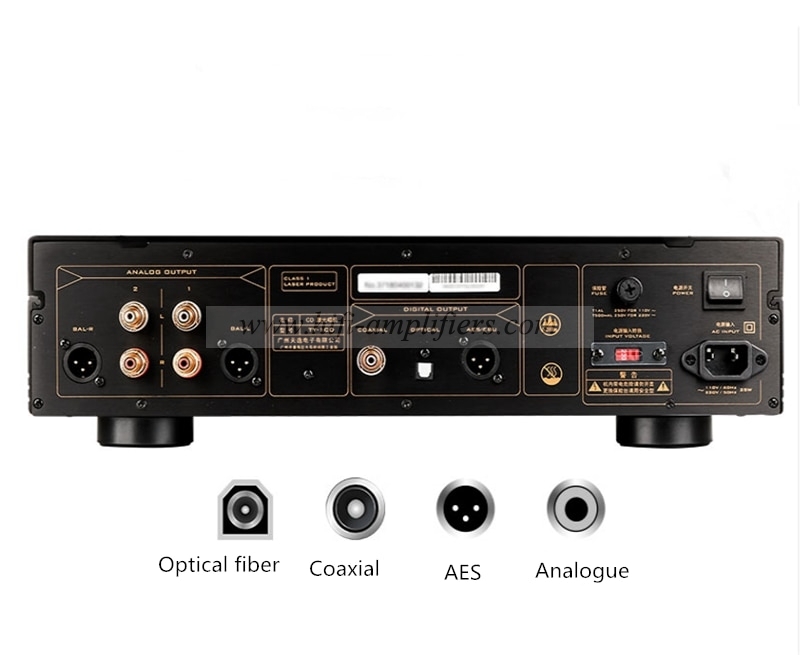 High-end decoder chip ES9028Q2M
1: Using the flagship chip ES9028Q2M of the American ESS company as the digital-to-analog signal decoding chip, its signal-to-noise ratio is as high as 129dB, and the total distortion is less than 120dB. It supports up to 32bit/384K high-spec input signals and supports multiple high-definition audio format decoding.
2: ES9028Q2M chip can ensure high-strength resolution, wide sound field, real liveness and natural overtones.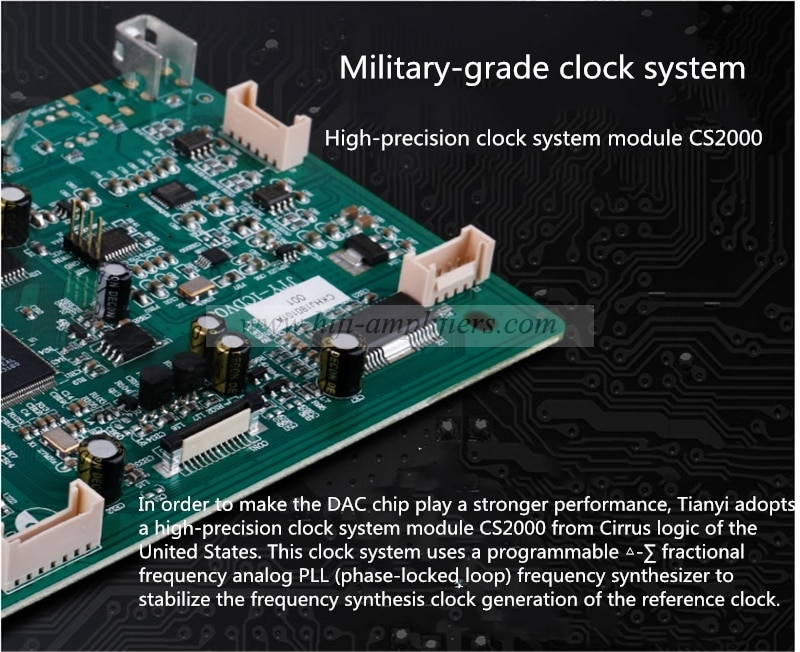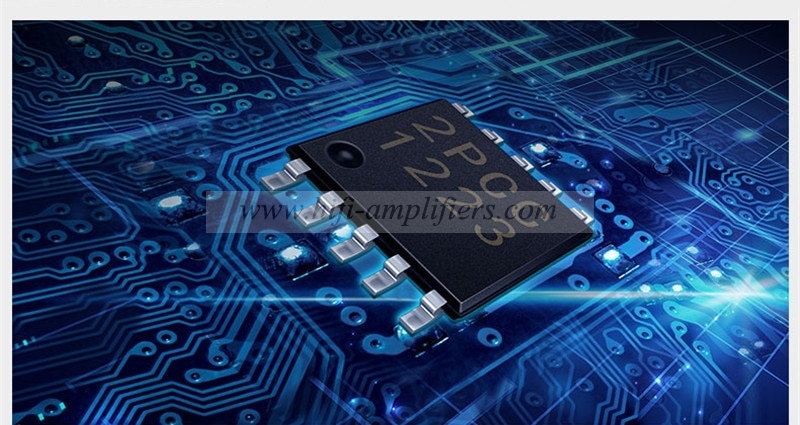 Unique DSP algorithm
Effectively reduce clock jitter error
The digital PLL can be used to generate an analog phase-locked loop multiplication factor to ensure a reference frequency of 8~75MHz, an output frequency of 6~75MHz, an input synchronization clock of 50Hz-30KHz and a jitter suppression angular frequency of 1Hz.
The more unique feature of CS2000 is that it can provide clock generator and clock cleaning functions at the same time with a single IC. This integration reduces the number of components and board space required by the audio system. Compared with other current solutions in the industry, this series of products can greatly reduce Jitter, and is an ideal choice for professional audio, high-end consumer markets and mainstream consumer audio/video applications.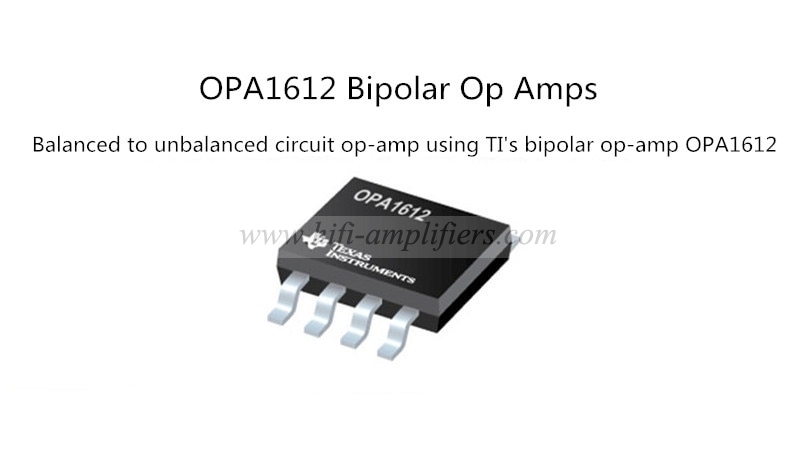 High noise immunity: In bipolar transistors, the conduction path is buried in silicon, making the current less susceptible to external interference, allowing noise to be effectively controlled.
Lower distortion rate: distortion rate as low as 0.00015%; making the audio signal error negligible, bringing a cleaner sound and giving you better listening enjoyment
Smaller distortion voltage: Bipolar transistors are better matched to achieve lower distortion voltages for a given architecture and less distortion voltage drift with temperature, which significantly improves amplifier performance. The lower the detuning voltage, the larger the amplification can be and the better the signal amplification can be.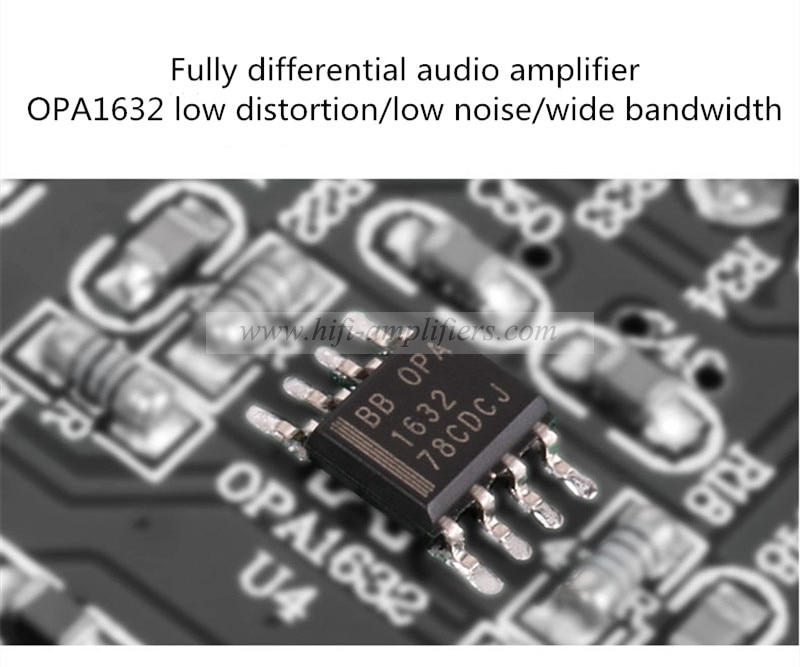 The I/V conversion circuit op amp of TY-1CD uses two fully differential op amps OPA1632 from TI Company
Lower noise: The differential output reduces even harmonics and minimises interference from common mode noise. 1.3nV/Hz input noise further ensures maximum signal-to-noise ratio and dynamic range.
Lower distortion: The distortion rate is as low as 0.00002%; making the audio signal error negligible, resulting in cleaner sound and better listening enjoyment.
Large signal bandwidth: the signal output has a bandwidth of 800 KHz, which is more than sufficient to send out audio signals with higher bandwidth; the phase characteristics are very flat within the usual audio bandwidth, and the sound quality is more dynamic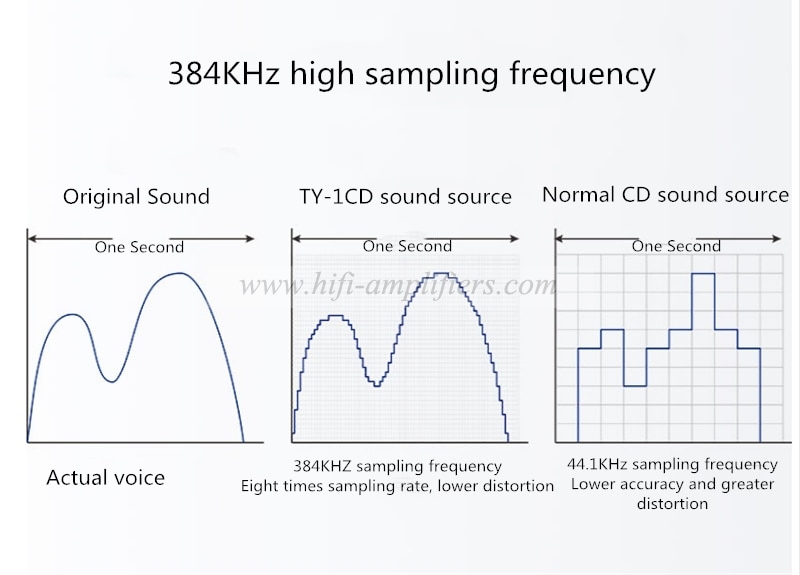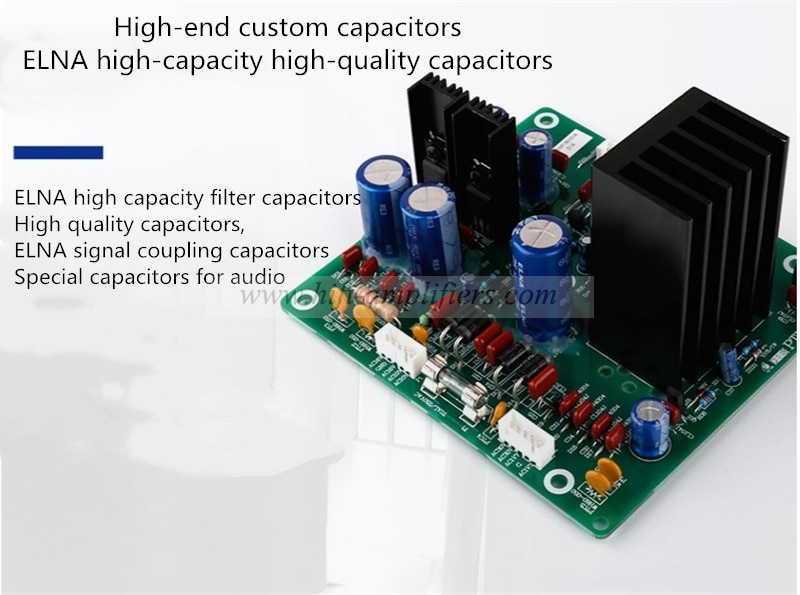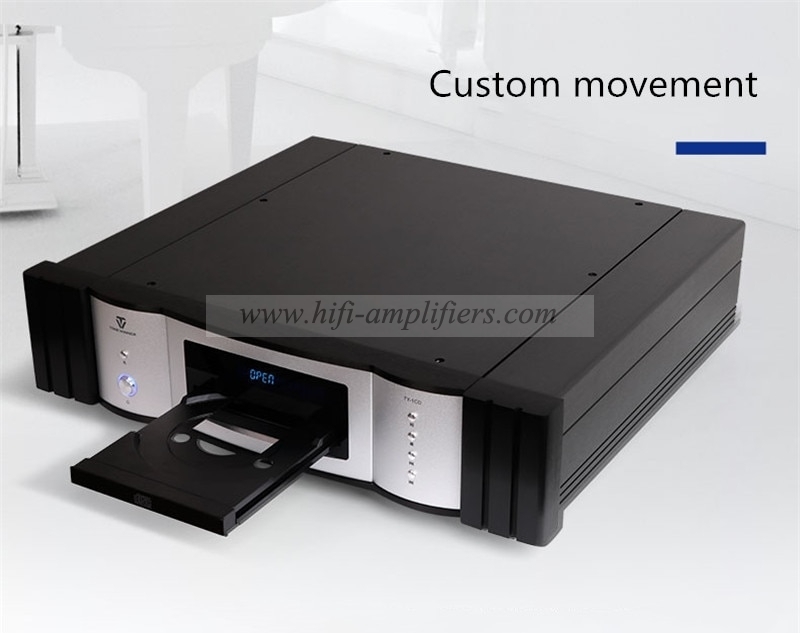 The power supply of TY-1CD adopts linear analog power supply with high cost and sufficient musical taste. A high-quality toroidal transformer with a power of up to 50W and a high-quality large-capacity electrolysis form a multi-channel high-precision stabilized power supply, which independently powers the digital and analog circuits; so that the power reserve of the machine is sufficient, the dynamic range is larger,
The entire power supply of TY-1CD uses a sub-regional shielding structure, which is well-designed and made, and it filters the interference to the external power grid very cleanly, and can provide a purer power supply.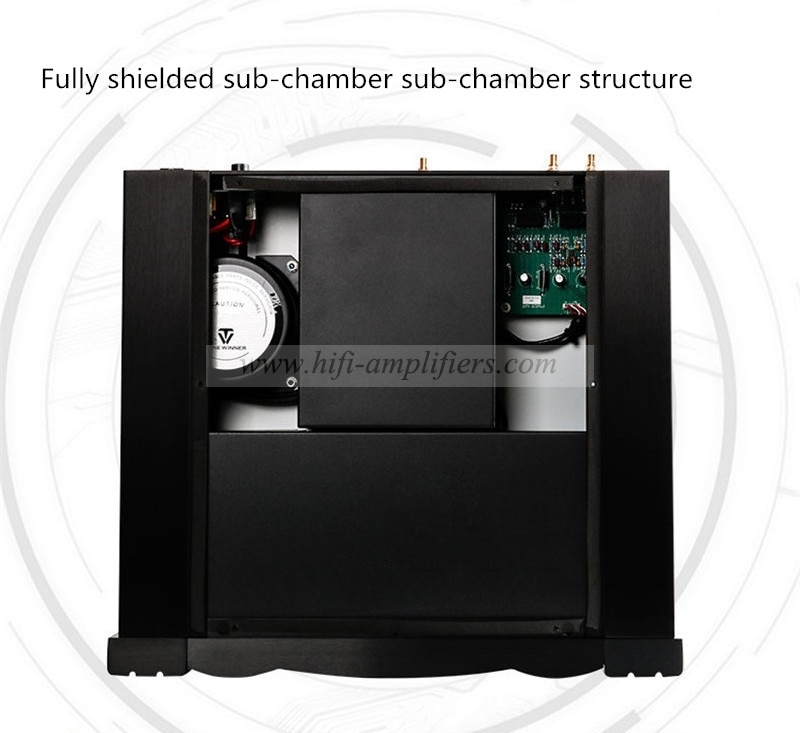 Structure: TY-1CD adopts a sub-chamber and sub-chamber structure valued by enthusiasts: the power supply, standby power supply and the movement are placed in one chamber, the D/A conversion is placed in another chamber, and the huge transformer is placed in a separate shield.
Anti-interference: All parts are fully shielded by sub-regions to ensure that the signals of each part do not interfere with each other to a greater extent in the structure, so that the signal is more pure, and the CD player can output high-purity music signals at any time
Steady: In addition, the thick, solid shielding layer makes the CD player more stable, greatly reducing the shaking phenomenon when the CD player is playing music, making the entire system as stable as Taishan, and effectively reducing the noise caused by the shaking of the machine.