LaoChen 845 Tube Amplifier HIFI Single-Ended Class A 300B 6SN7 Driver Flagship Lamp Amp
Product Warranty
All items Guaranteed 100% Brand New In the original edition Box and Come from the original factory.
All items ONE-YEAR WARRANTY !!!
Shipping Time & Invoice Declare
All items ship with DHL/UPS/TNT/EMS, (DHL/UPS/TNT) About 3-7days delivery time, EMS About 7-15days delivery time.
We can Declare the Value of the Order as Customer's Remark!!!
Product Declaration
If your speakers and audio source are very good, you have a higher level of pursuit for the sound quality of the machine and the sound level of the tube.
You can upgrade the PSVANE tube 6SN7-SE*2, 300B-SEN*2, 845SEC*2.

Standard version option is With PSVANE HIFI Seire 2x 845, 2x 6SN7 and 2x PSVANE special made 300B-SE :
Luxury version: option is with all best specially PSVANE customized black plate, golden pins tube: 2x PSVANE 845-SEC Black glass, 2x PSVANE Eggplant shaped 300B-SEN, 2x PSVANE Bottle shaped 6SN7-SE
Parameters:
Preamp tubes: 2 x 6SN7 or CV181-SE(depend on option)

Driver tube: 2x 300-SE or 300-SEN

(depend on option

)

Power tubes: 2 x 845 or 845-SEC (depend on option)


Output power : 25Wx2 (8 ohms),
Power transformer Power: 150W

Frequency response: 18Hz-35KHz

Output Impedance: 4 - 8 ohm

Total Harmonic Distortion: ≤ 1% (1kHz)

Input Impedance: 100K ohms

Input Sensitivity: 500mV--2000mV

SNR: 87db

Size (W × D × H): 430(W)×340(D)×280(H)mm

Net weight: 27 kg

Package weight: 30Kg

Input voltage for: AC

50-60hz /110

-120v, 220v 230v-240V
Features:
Since 2 years preparation and testing , Laochen in the end release their latest flagship big power 845 tube amplifier

(HIFI EXQUIS

)

Use one high voltage transformer and one lower voltage transformer, 2 x power transformers independently supply amp, in order to ensure amplifier's power at the same time reduce the interference, in the absence of output feedback, the noise is controled within 1-1.5 millivolt, making the sound of the amplifier more broadly natural.

Using custom 6SN7 preamplifier, (HIFI EXQUIS)

PSVANE 300B-SE to drive PSVANE 845 high-power bile duct drive output transformer,

Between 300B and 845 is with stable efficient hi-fi coupling capacitors

Use of metal film resistors, ALPS potentiometer and hi-fi level capacitors,

signal amplification part use handmade scaffolding design to reduce the noise

The power supply part use thickened circuit board.

(HIFI EXQUIS

)

use for each high voltage and low voltage two inductance for filtering,

Use a delay of 30 seconds of the circuit, effectively protecting the life of the power tube.

Taiwan's high-quality dual-head dynamic VU meter,

Direct thermal triode 845 amp, both the performance of human voice and natural string and delicate, and also when dynamic time it's calm and magnificent,

Gold-plated connectors

(HIFI EXQUIS

)

3 inputs source with swither

(HIFI EXQUIS

)

Free offer tubes protection grille

(HIFI EXQUIS

)

All electronic component are high level quality

Manufactuer Laochen is most famous Chinese brand, they have 3 brands: "Oldchen" , "LaoChen", "Aiqin" , its EL34 series is already sold more 20000 copies.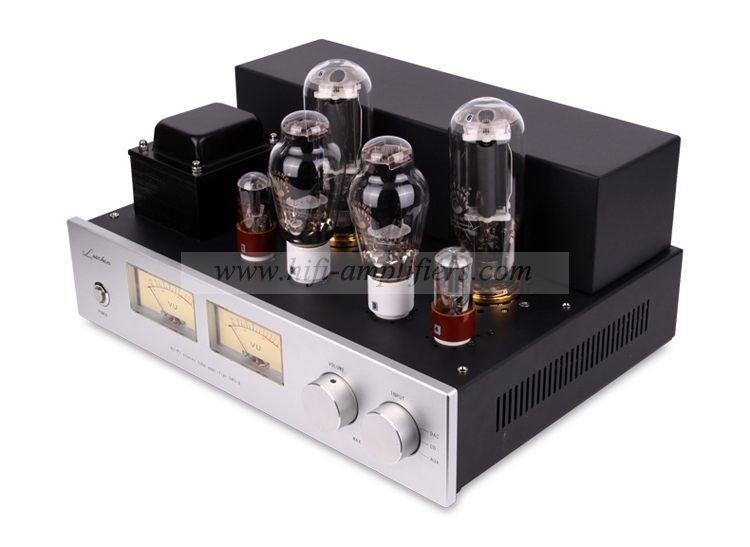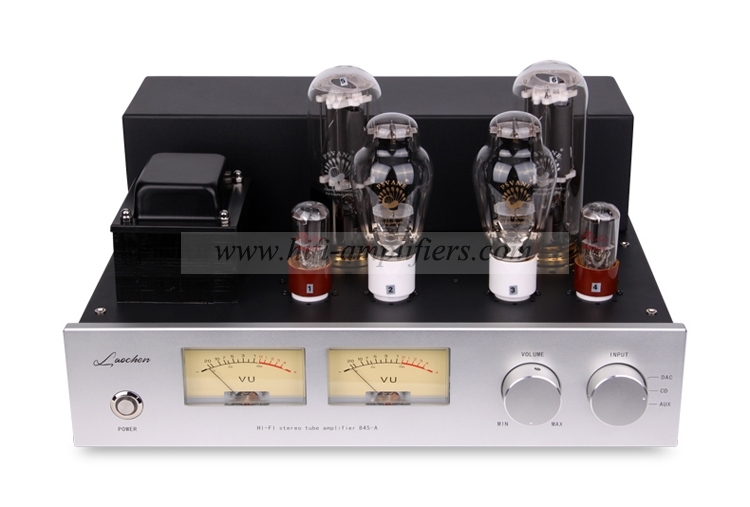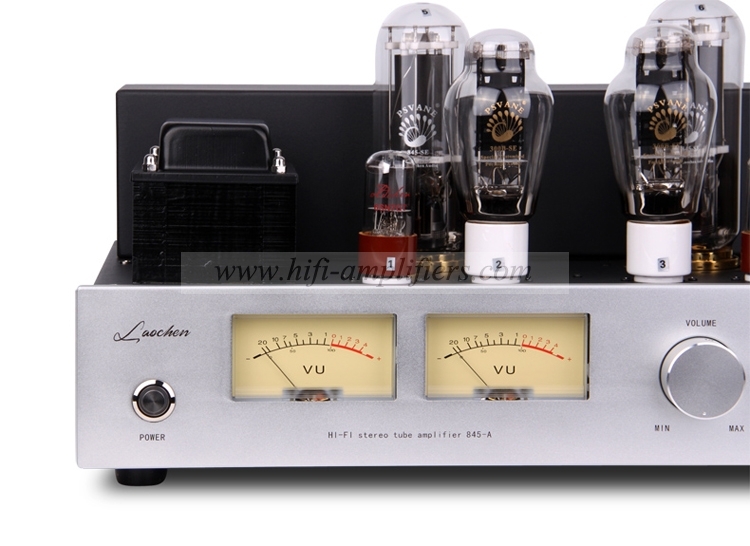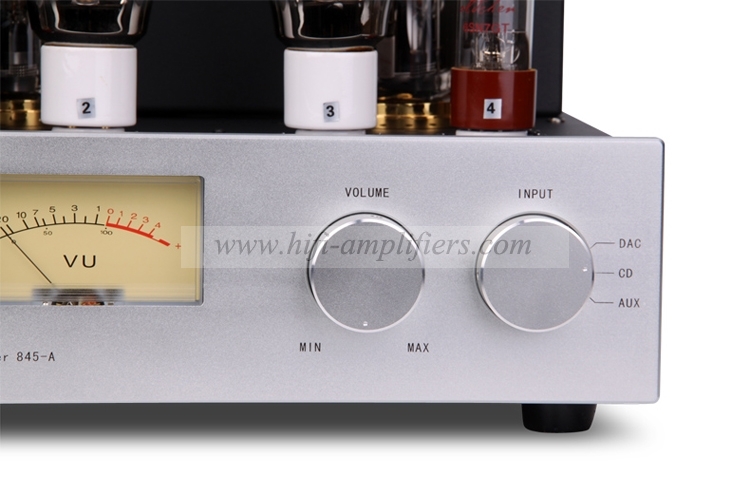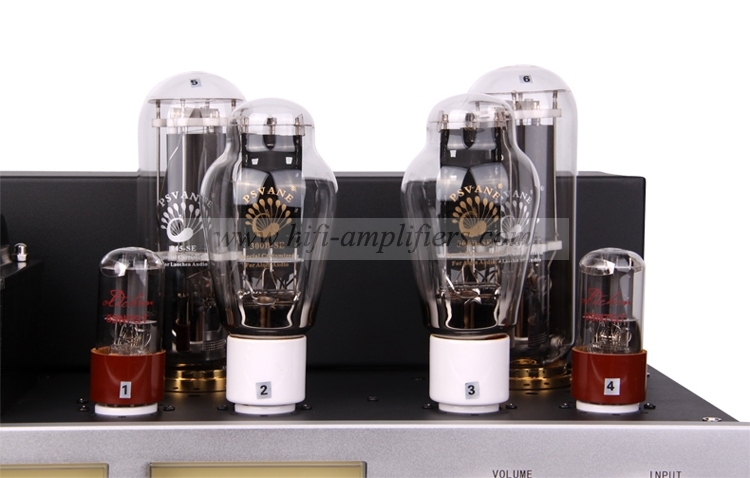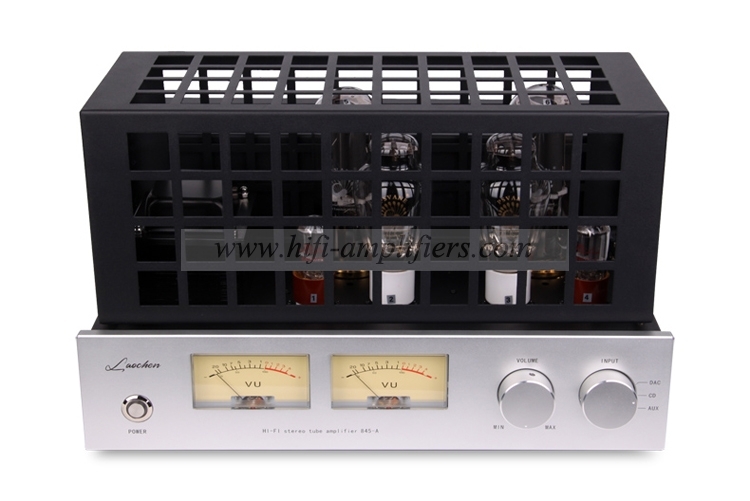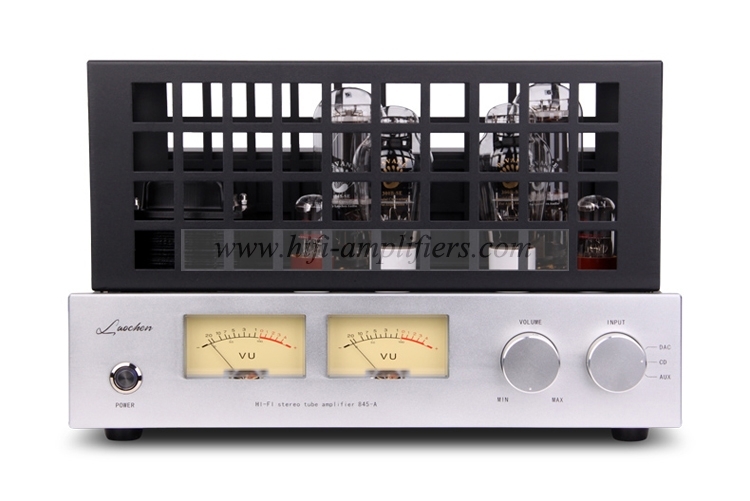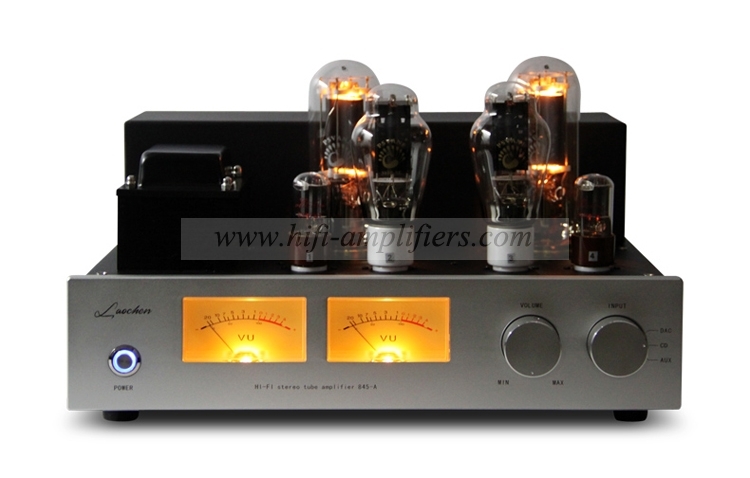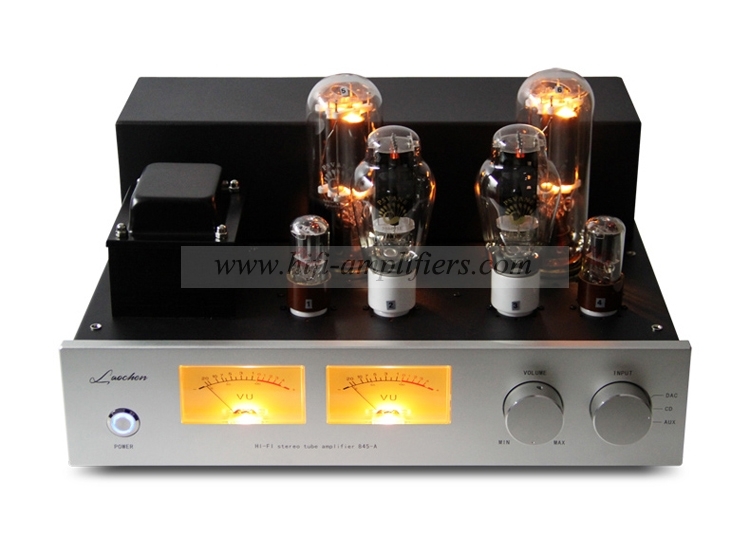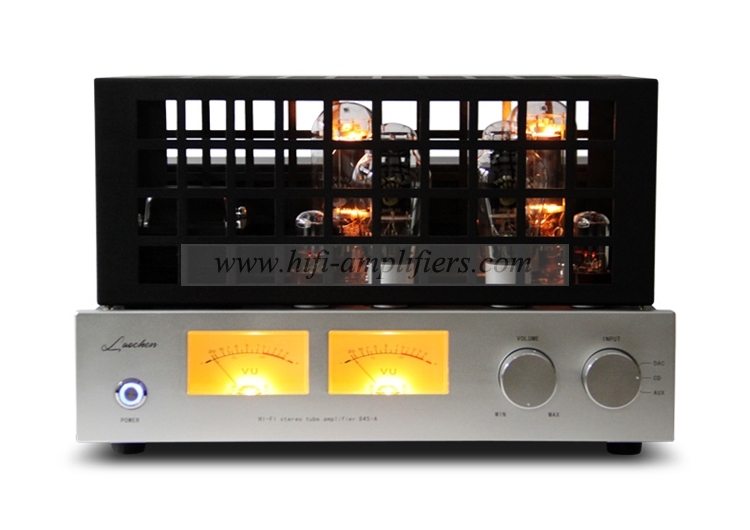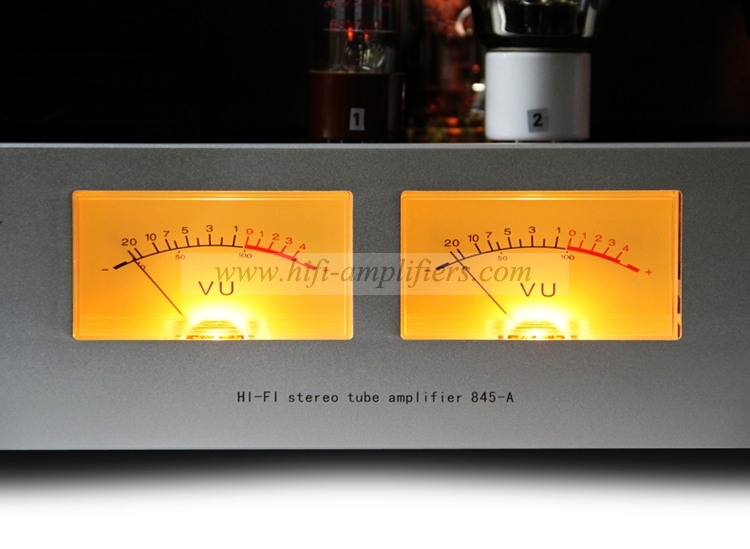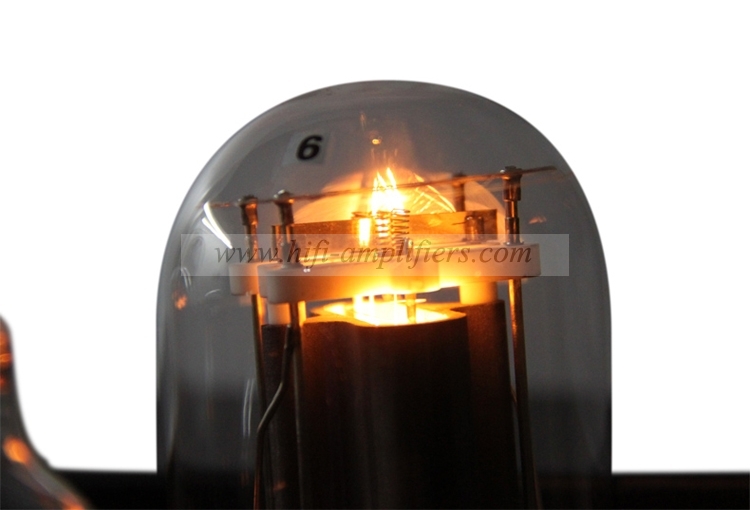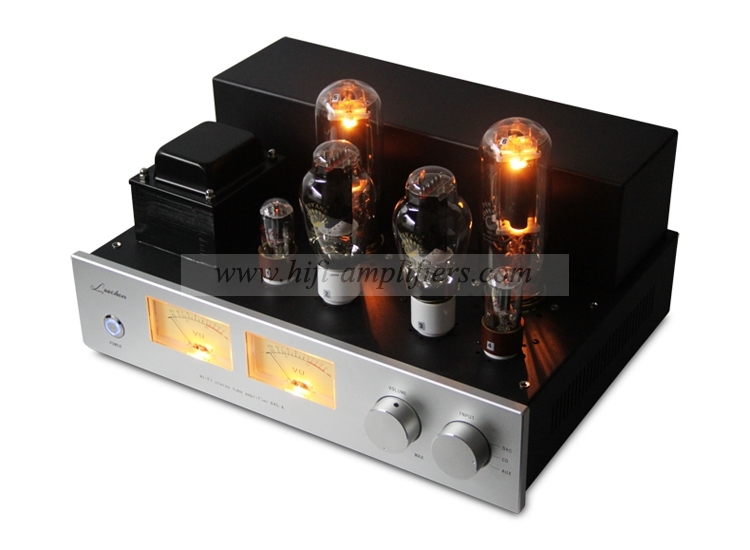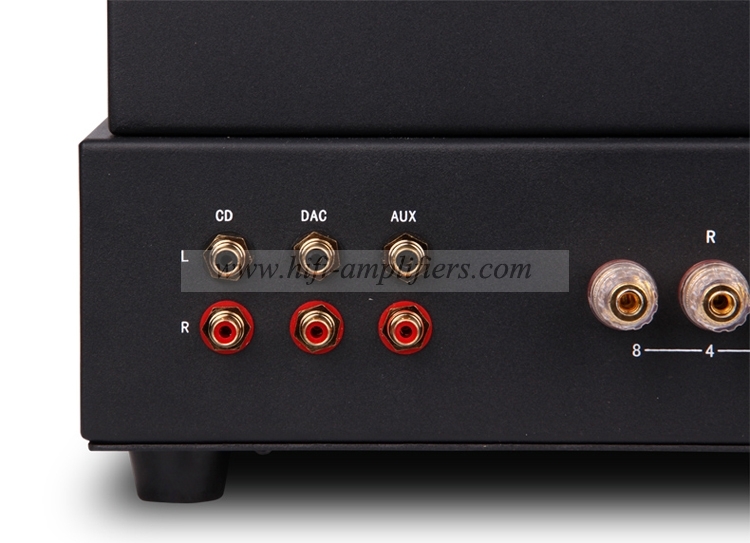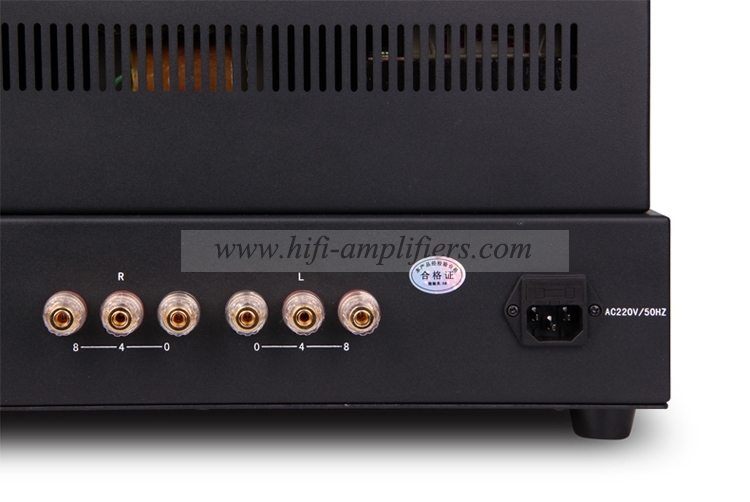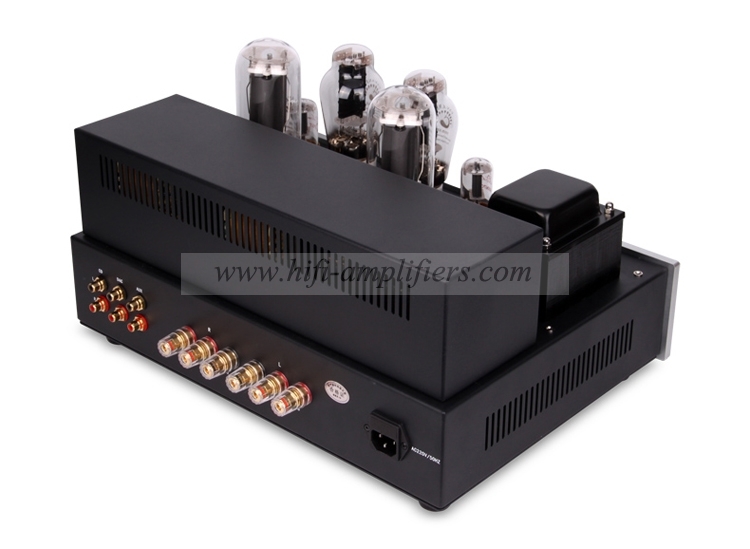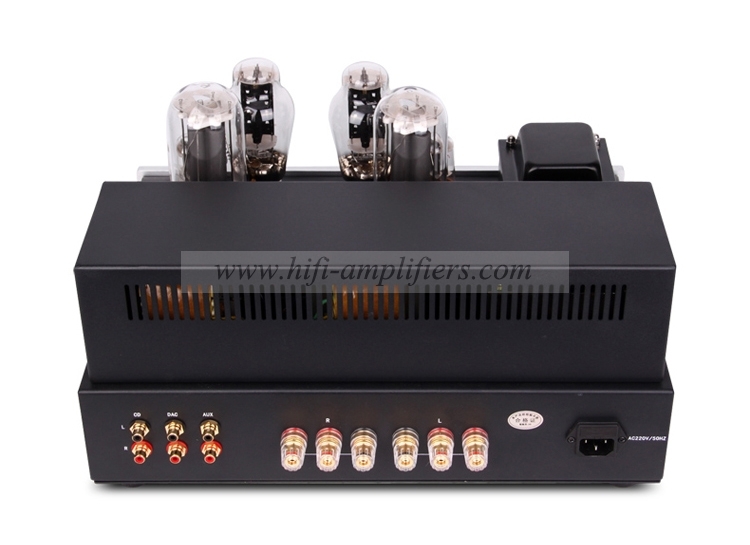 Luxury version: