XiangSheng DAC-02A DAC & Headphone Amplifier USB/ Coaxial /Optical fiber/BNC
Product Warranty
All items Guaranteed 100% Brand New In the original edition Box and Come from the original factory.
All items ONE-YEAR WARRANTY !!!
Shipping Time & Invoice Declare
All items ship with DHL/UPS/TNT/EMS, (DHL/UPS/TNT) About 3-7days delivery time, EMS About 7-15days delivery time.
We can Declare the Value of the Order as Customer's Remark!!!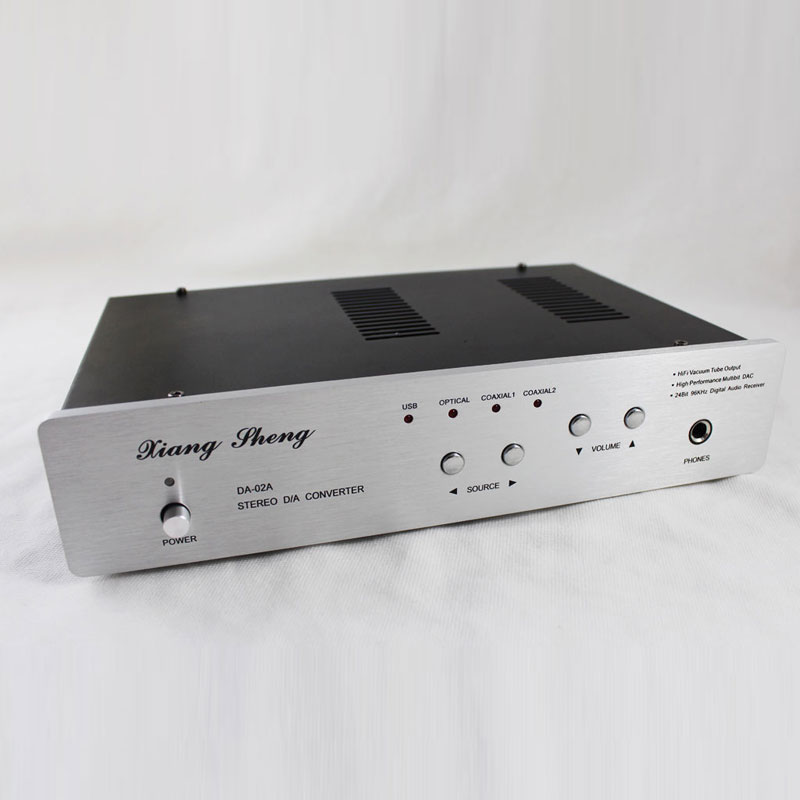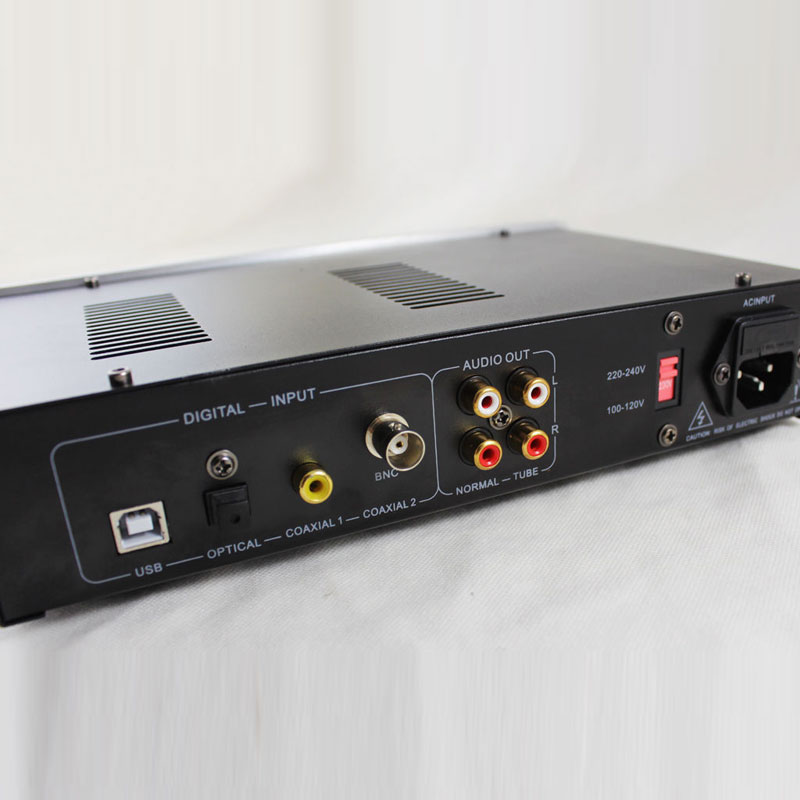 Product Declaration
Notice: The upgraded version of XiangSheng DAC-02A DAC use the hiend part like below, and have nicer sound. American DALE resistance, Japanese light tone resistance, ELNA capacitors, Sanyo capacitors, Taiwan solid British electrolysis, BC capacitance, The ruby rubycon capacitor France Suren capacitance, American GE5670 vacuum tube, OPA2604AP with gold-plated seat. Product Description: High-resolution digital to analogue audio converter with superior audio dynamic performance for consumer audio and musical applications. (4) sets of digital inputs: (1) coaxial, (1) optical, (1) USB and (1) BNC input. (2) sets of RCA outputs –The unit have two output, one with transistor and one with single 6N3 vacuum tube. So you can change the two output to find more fun. You can compare the sound between the two output then find out which can match you listen taste. Built-in headphone amplifier: allows you to enjoy music with privacy. Great power, music layers and details. Genuine imported processing chip. Produced elaborate Main Amplifier Boad adopt "Double-Sided Board" design. All resistors and capacitors are audiophile grade to ensure sound quality. Key parts are from Germany and Taiwan etc. R-shape high efficiency transformer. Separate power supply rectification to analog and digital circuits. Gold coated RCA connectors and coaxial connector. Vacuum tube output use well-known Chinese 6N3 tube. It can be replaced with 5670 type of tube. Brushed aluminum faceplate, with all metal buttons and knobs, plus blue LED indicator light. The volume potentiometer does not control volume on the line outputs, just the headphone. When there is no signal input, it'll become mute automatically. Parameter: Tube Used: 6N3 ( can be replaced with 5670 tube) Digital Audio Inputs: (1) coaxial, (1) optical, (1) USB and (1) BNC input. Stereo Audio Outputs: 2 analog stereo outputs via RCA Left/Right channel: Normal Output and Tube Output. Headphone Amplifier Output Output Power: 500mW-100mW Impedance: 32 ohm -600 ohm Sampling Frequency: 32kHz 44.1kHz 48kHz 88.2kHz 96kHz depending on source. Resolution Capability: This DAC-02A supports 16bit 20bit and 24bit audio depending on source. Input Impedance: 75 ohm Line Output Impedance: 600 ohm Output Voltage: 2000mV Dynamic Range: 120dB Frequency Response: 20Hz-30KHz Signal-To-Noise Ratio (SNR): Normal Output: 110dB; Tube Output: 90dB Total Harmonic Distortion: Normal Output: less than 0.001% Tube Output: less than 0.1% Power Supply: 100-240VAC 50/60Hz (110V, 120V, 127V, 230V,240V version will take 3-14 work days to order) 220V version is in stock. Dimension: 260mm (W) x 167mm (D) x 55mm (H) Net Weight: 2 KG Gross weight: 3kg
Customers who bought this product also purchased...