ToneWinner AD-1PRE Audiophile preamp decoding pre-amplifier DAC Full Balanced output
Product Warranty
All items Guaranteed 100% Brand New In the original edition Box and Come from the original factory.
All items ONE-YEAR WARRANTY !!!
Shipping Time & Invoice Declare
All items ship with DHL/UPS/TNT/EMS, (DHL/UPS/TNT) About 3-7days delivery time, EMS About 7-15days delivery time.
We can Declare the Value of the Order as Customer's Remark!!!
Product Declaration
ToneWinner Winner AD-1PRE audiophile preamp Decoder decoding pre-amplifier DAC ESS9028Q2M ESS with remote control
100% Brand New

Features:
Product introduction:
The pre-amp is a high-quality fever preamp decoder designed by Tianyi Company for three years. It is mainly used with Tianyi AD1PA.
It can also be used for pre-upgrade of AD2SE by setting AD2SE to the post-level mode and AD1PRE for its external pre-stage decoding.
Improvement can be seen immediately. The overall performance has changed dramatically.
4-channel analog audio input interface: 3-way unbalanced input (AUX, CD, DVD), 1 balanced input;
5 digital audio input interfaces: OPT1, OPT2, COAX1, COAX2, USB;
Analog output interface: two sets of unbalanced outputs, one set of balanced outputs;
The digital receiver chip uses the AK4118 of AKM;
The DAC chip adopts the ESS9028Q2M of the American ESS company, which has the signal-to-noise ratio of 129dB and the distortion as low as -120dB.
The I/V conversion circuit op amp uses TI's Ding-class fully differential op amp OPA1632 to maximize the high fidelity performance of the balanced transmission signal;
The electronic volume chip adopts the JUSE Ding-class MUSES72320, and the indicators such as distortion, signal-to-noise ratio and resolution are extremely excellent;
The balanced-to-unbalanced circuit op amp uses TI's Ding-class bipolar op amp OPA1612 with distortion as low as 0.000015% and noise density as low as 1.1nV/√ Hz;
The whole AD-1PRE is powered by analog power supply, which eliminates the interference of the switching power supply to analog audio.

Specifications:
Frequency response: 20Hz-150KHz (0 + l/-3dB)
Signal to noise ratio: > 108 (A-weighted)
Total harmonic distortion: 102dB (lKHz)
Supported formats: CD, HDCD, SACD (CD layer), MP3, WMA
Input interface: coaxial, optical, USB, AUX, CD, DVD,
Output a: two sets of unbalanced output, a balanced output
Dimensions: 444mm*108mm*420mm (manual measurement, subject to the actual product)
Net weight: lO.lKg
Gross weight: 12kg
Accessories: remote control, power cord, fiber optic cable, data cable A pair of batteries, warranty card, manual
AD-1PRE provides two sets of unbalanced outputs and a set of true fully balanced stereo analog audio outputs; these three sets of analog output terminals have analog output filter circuits optimized for group delay
Lossless input of digital signals
Equipped with five digital audio inputs: 2 groups of coaxial, optical fiber, 1 group of USB; 3 groups of analog audio input: 1 group of AUX, CD, DVD input, 1 group of balanced audio input

In order to make the DAC chip play a stronger performance, AD-1PRE uses a high-precision clock system module CS2000 from Cirrus Logic in the United States. This clock system uses a programmable △-∑ fractional frequency analog PLL (phase-locked loop) frequency synthesizer to stabilize the frequency synthesis/clock generation of the reference clock.
Effective reduction of clock jitter errors
Digital PLL can be used to generate analog phase-locked loop multiplication factor to ensure 8-75MHz reference frequency,
6-75MHz output frequency, 50Hz-30KHz input synchronous clock and 1H jitter suppression angular frequency.
CS2000 can provide clock generator and clock cleaning functions at the same time with a single IC
AD-1PRE uses the flagship chip MUSES72320 of Japan JRC Company as the electronic volume control chip. The chip is a two-channel electronic volume controller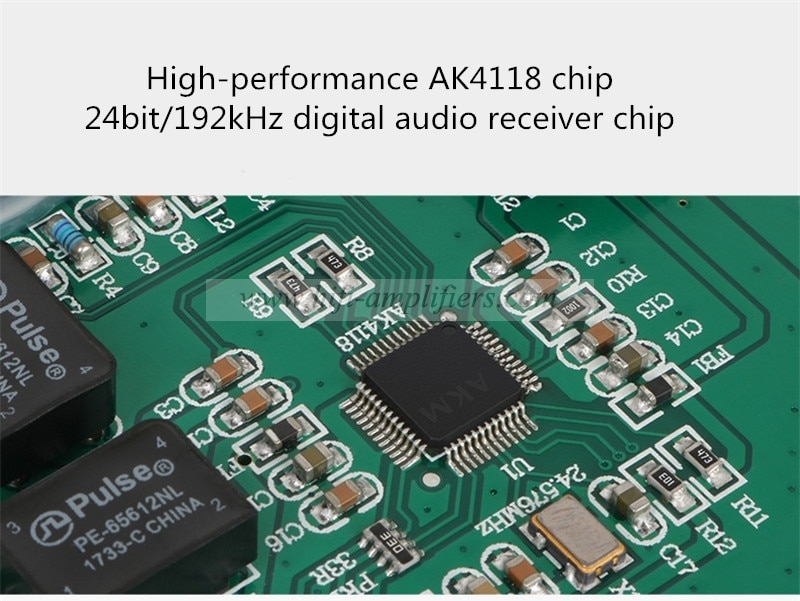 The IC chip uses the AK4118 chip produced by AKM, Japan, which is a digital audio transceiver, supporting 192kHZ, 24-bit channel state decoder. The chip has a digital de-emphasis filter, which can improve the signal-to-noise ratio of high audio modulation and make the audio signal more reproducible; the sound is more detailed.
Lower noise: The differential output reduces even harmonics and minimizes the interference of common mode noise. The input noise of 13nV/-Hz further guarantees the maximum signal-to-noise ratio and dynamic range.
Lower distortion: The distortion rate is as low as 0000022%; the error of the audio signal is negligible, bringing a purer sound and giving you a better listening experience
Large signal bandwidth: The signal output bandwidth is up to 800KHz, which is more than enough even for audio signals with higher output bandwidth; in the usual audio bandwidth, the phase characteristics are very flat and the sound quality is more pleasant.
High noise immunity: In bipolar transistors, the conduction path is buried in dry silicon, and the current is not easily affected by external interference, so that the noise can be effectively controlled, and the noise density is as low as 1.1nV/Hz, so as to obtain purer audio .
Lower distortion rate: The distortion rate is as low as 0.000015%; the audio signal error is negligible, bringing a purer sound and giving you a better listening experience.
Small offset voltage: Bipolar transistors have better matching, and can achieve lower offset voltage for a given architecture. The offset voltage drift caused by temperature is smaller, which can significantly improve the performance of the amplifier. The smaller the offset voltage of the op amp, the larger the amplification factor and the better the signal amplification effect.
AD-1PRE whole machine power supply adopts 150W high-quality toroidal transformer and high-quality large-capacity electrolysis to form a multi-channel high-precision stabilized power supply, which is independently powered by logarithmic/analog circuits.