XiangSheng DAC-01A Coaxial/Fiber USB Asynchronous XMOS Decoder & Headphone Amplifier
Product Warranty
All items Guaranteed 100% Brand New In the original edition Box and Come from the original factory.
All items ONE-YEAR WARRANTY !!!
Shipping Time & Invoice Declare
All items ship with DHL/UPS/TNT/EMS, (DHL/UPS/TNT) About 3-7days delivery time, EMS About 7-15days delivery time.
We can Declare the Value of the Order as Customer's Remark!!!
Product Declaration
DAC-01A Audio decoder AK4490 coaxial fiber optic USB XMOS Dac headphone amplifier NE5532 LF353N Op amp audio decoder.
Note:The DAC-01A version tenth is launched. It adopts the AK4418 which is currently recognized as the lowest jitter value of AKM company to do digital reception, AK4490 decoding, whether it is DVD player, CD player, computer, HD player, TV set-top box, MP3 (MP5) player, HD hard disk player, IPOD, etc., whether it is digital signal or analog signal, you can choose to connect To the input of this unit, you only need one switching knob on the front panel of the machine to get it. You don't need to unplug the signal line to exchange it.


1: gold plated RCA
2: elna high quality electrolytic capacitor
3: ak4118 digital reception
4: Active large crystal oscillator
5: Use usb daughter card to facilitate subsequent upgrades
6: Digital filtering for fine tuning of sounds
7: ak4490 decoder chip
8:2604AU for I/V and filtered gold-plated socket for easy upgrade
9: Imported relay signal switching, long service life
10: Five WIMA coupling
11: Using the op amp output and the tube, the sound quality is better
12: Independent rectification and filtering regulator
13: High quality output


Description of the silkscreen of panel
(1) Power Switch: POWER - Press the button once, the power comes on. Press the button again, the power goes off.

(2) Headphone output port: When inserting headphone, automatically cut off the loudspeaker output.

Please use headphone with 32ohm and 600ohm.

(3) Volume Control: VOLUME-Turning the Volume control clockwise increases the volume level, turning the

Volume control counter-clockwise decreases the volume level.

(4) Signal Input Selector: SELECTOR

(5) CD/DVD Signal Input Port(CD/DVD)

(6) AUX Signal Input Port(AUX)

(7) USB Signal Input Port(USB)

(8) OPTICAL connection port

(9) COAXIAL connection port

(10) NORMAL output port : can be connected with integrated amplifiers (such as tube amp).

(11) TUBE output port: : can be connected with integrated amplifiers ( such as transistor amp).

(12) AC Power Selector Switch:

(13) AC Power Input Plug (AC INPUT), AU/EU/US standard power cable available

Headphone Amplifier Description:
The DAC-01A DAC Headphone Amplifier stands out with its high fidelity vacuum tube output . With no less than five sources signal inputs for selecting : DVD/CD, AUX, coaxial, optical and USB input.

The DAC-01A lets you "upgrade" the music listening experience, for any type audio setup, from computer-based systems, to network music devices, or standard CD/DVD etc. Just plug it into your existed setup and enjoy the superior high end sound quality.

This is a new design so not like the old Tube DAC. The unit have two output, one with transistor and one with single 6N3 vacuum tube. So you can change the two output to find more fun. You can compare the sound between the two output then find out which can match you listen taste.

Headphone Amplifier Features:
- 5 sets of inputs: including 2 sets of analog RCA inputs(DVD/CD, AUX), (1) coaxial, (1) optical and (1) USB input.
- 2 sets of RCA outputs – transistor and vacuum tube.
- Built-in headphone amplifier: allows you to enjoy music with privacy. Great power, music layers and details.
- Genuine imported processing chip. All resistors and capacitors are audiophile grade to ensure sound quality. Key parts are from Germany and Taiwan etc..
- R-shape high efficiency transformer.
- Separate power supply rectification to analog and digital circuits.
- Gold coated RCA connectors and coaxial connector.
- Vacuum tube output use well-known Chinese 6N3 tube. It can be replaced with 5670 type of tube.
- Brushed aluminum faceplate, with all metal buttons and knobs, plus blue LED indicator light.
- Having two RCA analogy un-balance output(Normal Output and Tube Output), can be connected to transistor amplifier and tube amplifiers.
- The volume potentiometer does not control volume on the line outputs, just the headphone.

Headphone Amplifier Specifics
- Tube : Tube Used 6N3 ( can be replaced with 5670 tube)
- Input Impedance : Analog :100 ohm Digital: 75 ohm
- Harmonic Distortion : NO: less than 0.001% TO: less than 0.1%
- Headphone Amp : Output Power: 1000mW-300mW
- Frequency : 20Hz-30KHz
- Signal/Noise Ratio : Normal Output: 96dB; Tube Output: 90dB
- Impedance : 32 ohm -600 ohm
- Sampling Frequency : 32kHz ,44.1kHz ,48kHz ,88.2kHz ,96kHz
- Resolution Capability : 16bit ,20bit and 24bit audio depending on source
- Output Impedance : 600 ohm
- Output Voltage : > 2000mV
- Dynamic Range : 117 dB
- Size: 260mm (W) x 167mm (D) x 55mm (H)
- Weight: 2.5 KG
SA9023 USB(the oscillator is on the back of usb card):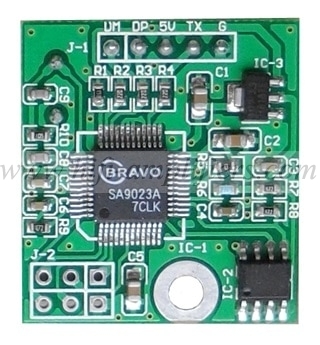 XMOS XU208 USB card(have double speed than old XMOS U8):
SA9023 usb is not need install driver, it will be installed directly by OS
For driver installation: Disable your antivirus amd unplug the USB cable before install the driver, and then plug it later.