XiangSheng DA-05BII 24bit/384K XMOS USB AK4495 AK4497 x2 DSD Hardware Decoder XLR
Product Warranty
All items Guaranteed 100% Brand New In the original edition Box and Come from the original factory.
All items ONE-YEAR WARRANTY !!!
Shipping Time & Invoice Declare
All items ship with DHL/UPS/TNT/EMS, (DHL/UPS/TNT) About 3-7days delivery time, EMS About 7-15days delivery time.
We can Declare the Value of the Order as Customer's Remark!!!
Product Declaration
XIANGSHENG DAC-05B asynchronous DSD xmos Daul mono AK4495 AK4497 Balanced XLR new
Since August 28, 2018, Xiangsheng DAC-05B model provides the exclusive paid driver of XMOS official version.
XIANGSHENG Audio pay for customization to Thesycon, Germany to get the exclusive paid driver.
Free version of the drive or Evaluation driver have Disadvantages: Can not support DSD Hardware decod, can only support DOP or every other time there will be a beep.
Exclusive paid driver do not have this problem, Exclusive paid driver is perfect and have a nice sound.
DA-05BII type, Bluetooth can be equipped with 2 options:
1, APX-HD lossless solution of Qualcomm CSR8675 chip, support to 24Bit/48K, this is not much introduced. 05BII standard + Qualcomm APTX-HD Bluetooth module, the price is 1918 yuan.
2, Shengwei LHDC Bluetooth solution, support 24Bit/96K true HD lossless transmission! Better than the so-called 5.0 Bluetooth on the market. 05BII standard + LHDC Bluetooth module, the price is 2116 yuan. Click on the image below to learn more.
Bluetooth is not selected, the default Bluetooth file is vacant, and can be added later.
LHDC is a new high-definition Bluetooth transmission protocol developed by Shengwei. It realizes extremely low distortion audio transmission through unique codec technology, giving users the most realistic listening experience. Compared with the traditional Bluetooth protocol, LHDC can realize more than three times of data transmission beyond SBC, providing more music detail reproduction, more complete stereoscopic space, and a more realistic high-fidelity listening experience!​
Xiangsheng DA-05B DSD version DAC has been officially available.
Introduced the enhanced version of the DA-05BII, dual-ring cattle display, dual-core AK4497EQ version support to DSD512 and PCM384K
The following is a schematic diagram of 05B supporting DSD hard solution & direct solution DSD512 and PCM384K: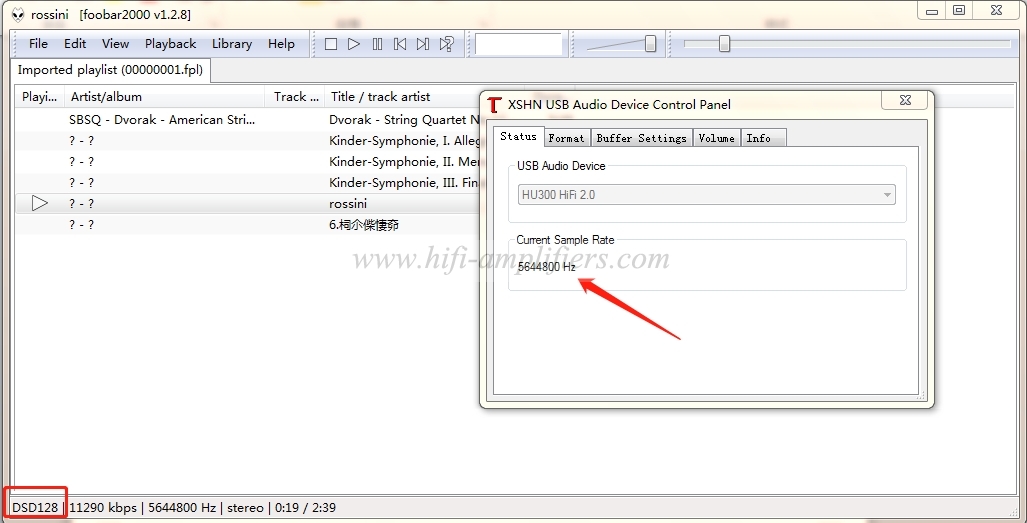 1. AKM's chip is one of the few can be directly decode DSD chip
2. AK4495 take into account the high index and listen to the feeling Maximum support 32bit 384K and DSD256.
3. AK4495 7V voltage supply, it is better than 5V power supplyon dynamic sound field.
4. AK4495 double MONO mode, non-simple parallel, than the single-chip dynamic large detail level.
5. the real solution to DSD to switch noise and noise.
6. Xmos-Xu208 have double speed of U8.
7. The USB port of DA-05B also supports Android phones with open OTG function, and supports DSD64 and DSD128! And PCM384K. Support for Apple phones with the camera kit, Apple Mac system is free of drive. AK4497 version of the support phone to DSD256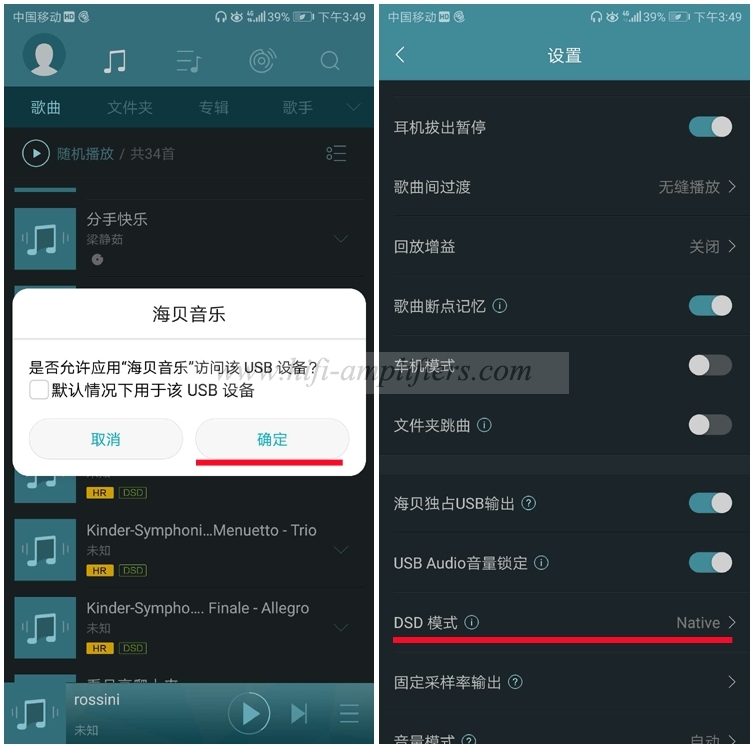 8. the tube used Russian 6H3n or GE 5670(Made in USA).
9. The A-05B uses a single toroidal transformer with no display. The DA-05BII uses a dual-ring cow with a sample rate display. Huan Niu is a high-quality constant cattle for Chongzhou Hengda Transformer Factory, with isolation layer. Wound for oxygen-free copper wire.
DA-05BII type black panel diagram:
DA-05BII type silver panel:
DA-05II partial frequency display effect: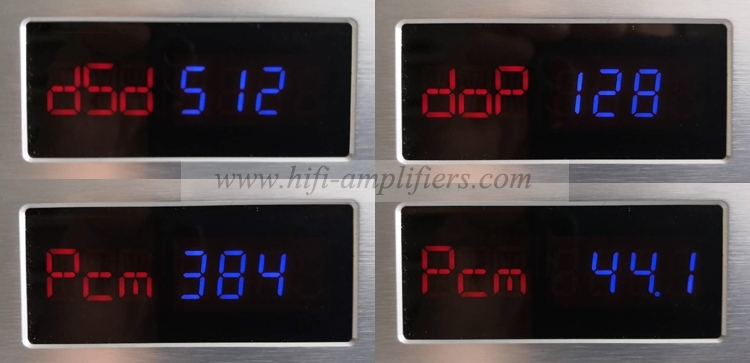 DA-05BII internal unpacking diagram:
DA-05B front and rear panel diagram:
DA-05B4497 circuit board (this picture is for upgrading the 49720 gold seal and OPA627 op amp, standard OPA2134PA and OPA2604AU):
05B4495 circuit board: the standard tube is Russian 6H3n.
MOS-U208 receive USB, Spdff signal, full IIS input output daul AK4495 decoding
Coaxial output: Available at USB input only
XLR output: 1 group
RCA output: standard output, 2 kinds of sound to choose to listen
Input jack: Ios (apple) -usb, Pc-usb, coaxial, fiber, Bnc
Support sound format: DSD-Dop, Native DSD, Pcm format (Wav, Wma, APE, Flac, Mp3, etc.)
Maximum support sample rate: Usb in support Pcm to: 24bit / 384K or 32bit / 192K
Usb in supports DSD64 / 128/256
Spdif in support to 24bit / 192K and DSD-Dop64
Op amp: OPA2134PA * 2, OPA2604AU * 1
Specification:
Dimensions: width 330mm, depth 220mm, height 70mm (without knob, machine feet, connector size)
Frequency response: 20Hz-35KHz
Signal to noise ratio: normal port output: 110dB
Harmonic Distortion: Normal Port Output: <0.001%
Support the following 24bit digital stream
Supports the following sampling frequencies: 44.1kHz, 48kHz, 88.2kHz, 96kHz, 176.4KHz, 192KHz
Output level: balanced output 9V, unbalanced output 2V
Dynamic range: balanced output greater than 120dB, unbalanced output greater than 110dB
Input impedance: AES / 120 ohm, other digital interface / 75 ohms
Line output impedance: 600 ohms
Net weight: 2.5kg
Gross weight: 4kg
Input Power Voltage: AC100V - AC240V (60Hz / 50Hz)
The device on the picture has a digital output that can be used.
Also it can choose the Power cord: EUR Plug, US Plug