RFTLYS CD1 HIFI CD player with Headphone Balance Output 24/192KHZ
Product Warranty
All items Guaranteed 100% Brand New In the original edition Box and Come from the original factory.
All items ONE-YEAR WARRANTY !!!
Shipping Time & Invoice Declare
All items ship with DHL/UPS/TNT/EMS, (DHL/UPS/TNT) About 3-7days delivery time, EMS About 7-15days delivery time.
We can Declare the Value of the Order as Customer's Remark!!!
Product Declaration
U disk support 24BIT/192KHZ, support WAV WMA AAC MP3 special support master audio files, support 32U or more U disk or FAT format mobile hard disk playback, the machine output can be connected to RCA and balanced output also digital coaxial output, machine Built-in headphone amplifier adapts to 32-300 Euro headsets. Decode part with AK4396

Fully balanced output line sound quality is better; U disk player can directly press the number keys to select music, you can switch files; WAV player supports high bit rate master format; CD, U disk supports playback DTS format coaxial output DTS digital signal (Note : CD machine without DTS decoding, only coaxial output DTS digital signal to the DTS decoder or DTS decoder power amplifier). Remote control adjustable volume

Output terminal with US CMC816 fever terminal to ensure sound quality
Machine net weight 5KG gross weight 6.5KG
Machine height 11CM Width 21.5CM Depth 31CM

CD parameters:

A multi-functional fever music player platform that integrates an independent high-fidelity CD player and digital audio files.
The decoding part adopts AK4396 with 120db dynamic range and 24bit/192K.
The chip with the BB fever opamp OPA2134 sound natural noble.
Digital file playback supports WAV master audio files in addition to ordinary MP3, WMA, up to 24bit/192K
Built-in high-quality toroidal transformers for power supply with no radiation and low noise linear power supply.
The audio output has regular RCA and XLR balanced outputs.
Supports 32G or larger U disk or larger capacity FAT mobile hard disk.
The disc and U disk support audio file playback at the same time.

Performance parameters:
Digital output signal amplitude: 1.0V/pp
Rated power consumption: 20W
Audio output impedance: 2.4V (0dB.Rms)
Headphone output impedance: 32~300Ω
Signal to noise ratio: 110dB
Harmonic distortion: 0.003%
Channel isolation: 100dB
Weight: 8KG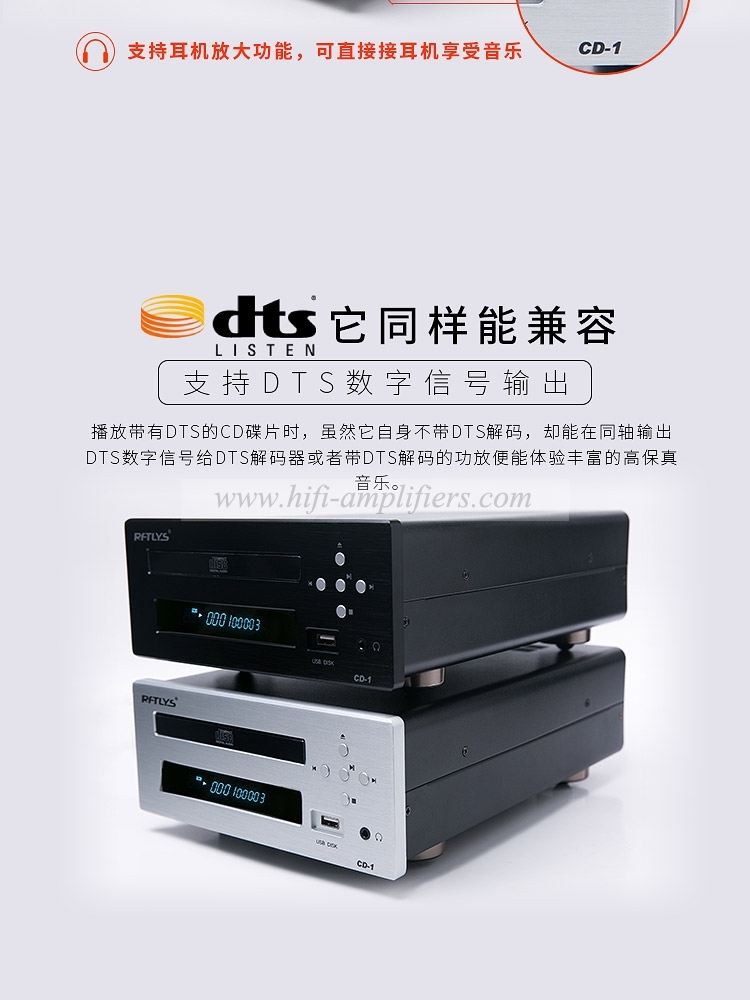 Customers who bought this product also purchased...