China Audiophile R8 Tube Amplifier EL34/KT88/6550EH *4 HiFi Class AB single-ended Power Amp Brand New
Product Warranty
All items Guaranteed 100% Brand New In the original edition Box and Come from the original factory.
All items ONE-YEAR WARRANTY !!!
Shipping Time & Invoice Declare
All items ship with DHL/UPS/TNT/EMS, (DHL/UPS/TNT) About 3-7days delivery time, EMS About 7-15days delivery time.
We can Declare the Value of the Order as Customer's Remark!!!
Product Declaration
Two colors are available: Black and Silver
Willsenton R8 is an integrated Amplifier, it is a Power Amplifier too (there is a group Power amp input), it is a Headphones amp too.
One amplifier can used wiht tube EL34, KT88 or 6550, so, you can get 3 kinds of sound from different models tubes if you buy more 2 new sets of tube.
Triode and ultra-linear Switchable.
Normal we suggest customer choose the upgraded tubes version
Features
• Pure hand-made, the whole machine is welded with scaffolding.
• Use a square power transformer specially developed for this machine.
• The output transformer uses two high quality wideband EI output transformers.
• The voltage amplification and boost stage uses a 6SN7 for power supply filtering.
• The voltage amplification stage and the push stage use two pairs of 6SL7 and 6SN7 tubes, respectively.
• The rear stage uses four KT88/6550/EL34 tubes for class AB single-ended power amplification.
• Triode and ultra-linear selection are available. The triode works in a soft, pure-and sleek sound, suitable for listening to vocals, strings and other types of music. Ultra-linear working mode, sound-tone open, unrestrained, good momentum, suitable for enjoying big scenes, big dynamics and other types of music.
• External independent BIAS-ADJ current display header. Adjustment and BIAS meter monitoring function keeps the best state of the power tube at all times.
• External EL34/KT88 tube selection function, easy to replace different types of tubes, adding endless fun.
• Infrared full-featured remote control.
• Use thick silver plated signal leads.
• With pure post-level function, it can be connected to independent preamplifier signal input.
• Power on mute delay function (about 30 seconds).
• Select Japanese ALPS high-end motor potentiometer.
• Easy-to-install plug-in tube shield.

Product parameters:
Frequency effect: 10Hz 40kHz (+/-0.5db)
Total harmonic distortion: 1% (1kHz)
Signal to noise ratio: 91dB
Input sensitivity: 380mv (when Integrated amp input) 820mv (when pure power amp input)
Input impedance: 100KΩ
Output impedance: 4Ω, 8Ω
Power supply voltage: 230V ± 5% (50Hz) ~ 115V ± 5% (50Hz)
Machine volume (400*200*390) (W*H*D) mm
Use vacuum tube: 6SN7*3.6SL7*2.KT88*4/6550EH*4/EL34*4
Power consumption: 310W
Net weight: 26kg
Working conditions: Temperature: 0°~40°C, Humidity: 20%-80%
Storage conditions: Temperature: 20 ° C ~ 70 ° c, humidity: 20% -90%
Rated output power:
25W+25W (RMS triode working state)
45W+45W (RMS super linear working state) (KT88)
25W+25W (RMS triode working state)
40W+40W (RMS super linear working state) (EL34)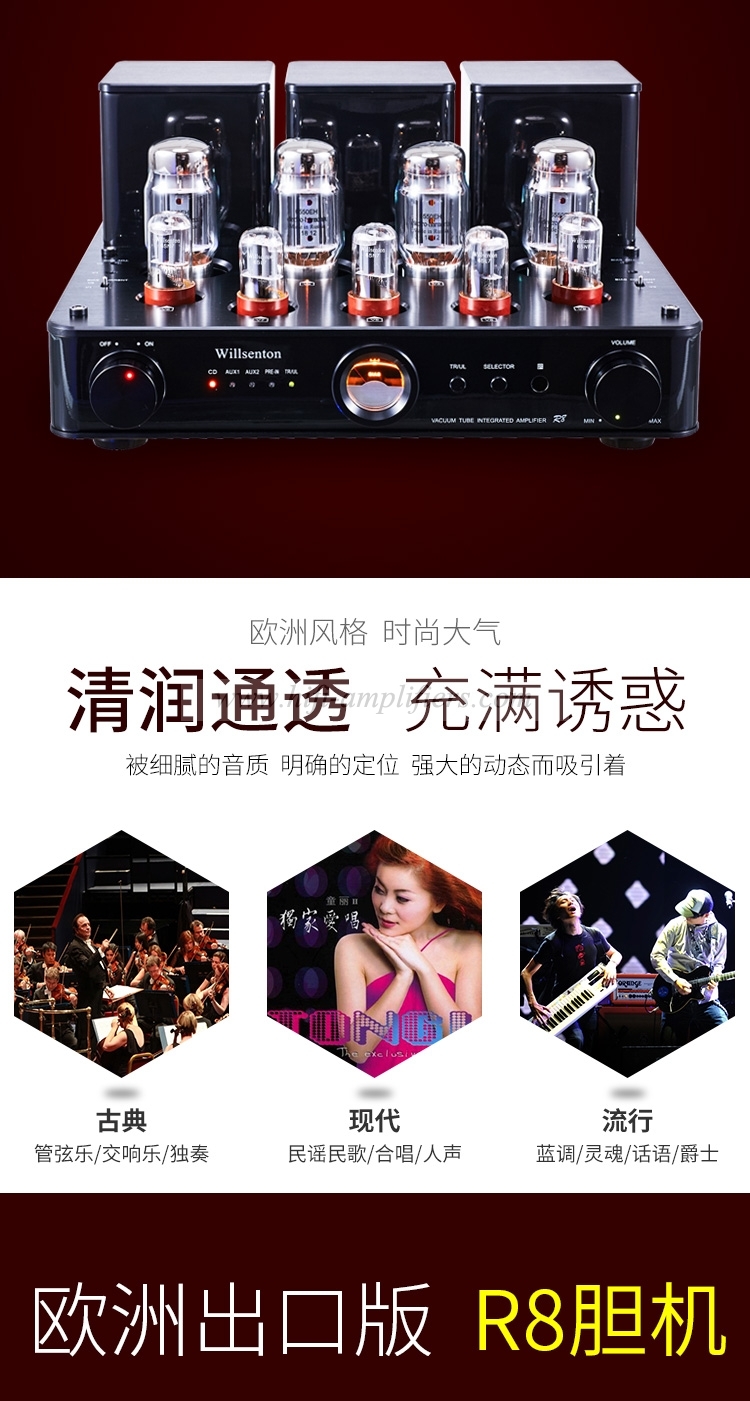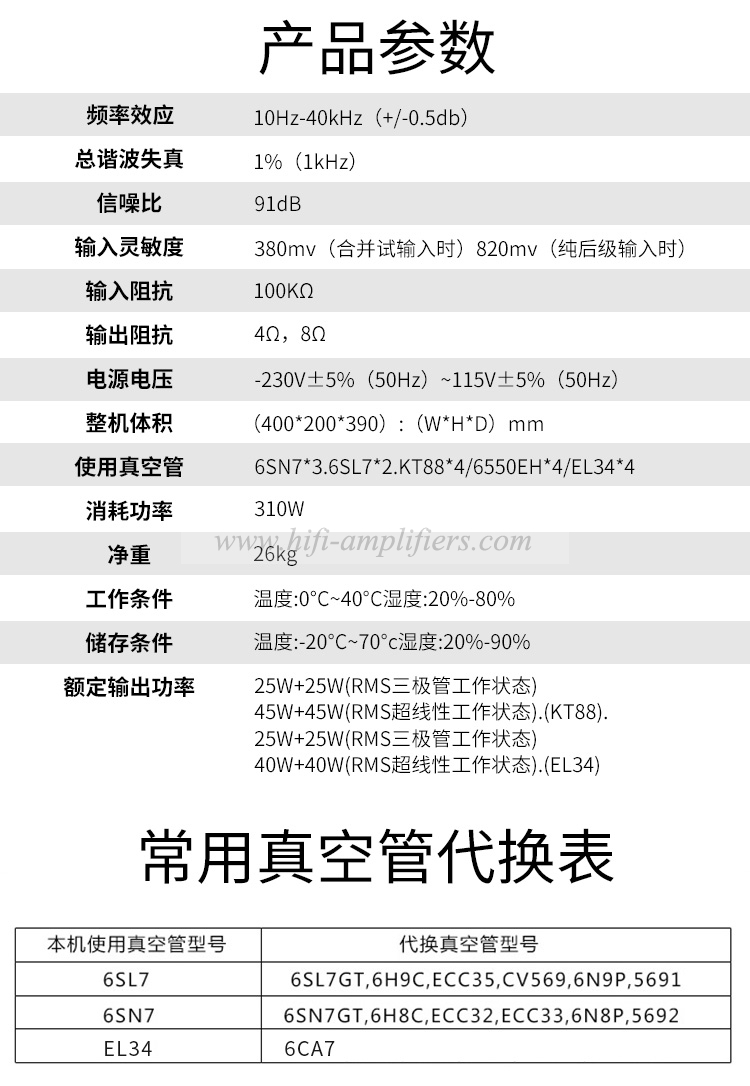 Customers who bought this product also purchased...